New OEM partners, solution partners, and product supplier program members offer manufacturers access to best-in-class engineering expertise and product resources
MILWAUKEE, July 18, 2013 - Twelve new companies have joined the Rockwell Automation PartnerNetwork program, including new OEM Partner companies, Solution Partner companies, and Encompass third-party product referencing companies. The products and services provided by these leading organizations enhance Rockwell Automation solutions and provide global manufacturers access to a world-class network. This helps customers simplify their supply chain, innovate their project design, and collaborate in multiple facets to receive the best value for their automation investment.

Four new OEM Partner companies have demonstrated a commitment to offering high-quality, innovative machinery and equipment that uses Rockwell Automation solutions. By delivering flexible and efficient equipment, OEM Partner companies help manufacturers increase business agility, optimize productivity and achieve sustainability objectives.
In the Latin American region, six organizations have been recognized as Solution Partner companies. Reputable and established companies, Solution Partner companies offer demonstrated knowledge in design, implementation, project management and maintenance of industrial control systems.
Additionally, two organizations became Encompass third-party product referencing companies - one in the Americas region, and one in the Asia Pacific region. Encompass Partner companies provide functionality that complements, enhances and extends Rockwell Automation solutions in order to help manufacturers harness the knowledge and flexibility needed to respond to rapid change and shifting demand. These companies offer connectivity solutions and critical components that not only help enrich the Rockwell Automation Integrated Architecture system, but also simplify the product-selection process - making it easier for customers to find the technologies best-suited to address their unique application challenges.
The Rockwell Automation global PartnerNetwork program is comprised of a collaborative team of top-grade suppliers and system integrators, including OEM Partners, Solution Partners and Encompass Partners, who work collectively to solve manufacturing and automation challenges.
OEM Partners
New OEM Partner companies in the North America region are as follows:
*BLAC INC. engineers and constructs the highest quality electro-hydraulic linear or rotary output actuators, and hydraulic power units for industries throughout the world. Their actuator systems deliver reliable long-term continuous operation, unique features and ease of maintenance.
*H2O Innovation's mission is to design, develop and market innovative and environmentally friendly water treatment technology and to produce high-performance products in the field of membrane filtration, and biological and physical water treatment solutions.
*MetlSaw manufactures high-speed, high-precision sawing machines for the ferrous and nonferrous metals industries, including saws for plate, extrusions, bar and rod applications. MetlSaw offers precision-cut parts to plus or minus 0.003 inches, and delivers them to automotive, aerospace, extrusion and metal service center facilities using carbide-tipped circular-blade technology combined with Rockwell Automation controls.
*Point Eight Power designs and manufactures electrical control and distribution systems for the oil and gas, marine and pipeline industries. They provide low-voltage and medium-voltage switchgear, arc-resistant gear, power control distribution buildings and generator control systems, along with field service, parts, training and engineering studies.
Solution Partners
The new Solution Partner companies in the Latin America region are as follows:
*Automatik Control Industrial, S.A. is a Mexico-based systems integrator focused on the sugar industry. The company has experience automating complete facilities, including conveyors and mills, centrifugal machines, clarification, evaporation, crystallization, boiling control, power generators, and batch and continuous processes.
*ECN Automation helps companies develop, commission and start up world-class industrial processes, mainly in the mining industry. ECN was founded in 1991 and has completed more than 400 successful control and automation projects.
*Genesys Controls, S. A. supplies instrumentation and control solutions, including commissioning and start-up services. Headquartered in Ecuador, Genesys provides solutions primarily for oil production facilities and power generation plants.
*IASTECH, an ISO9000-certified company, has offered complete solutions for the food and beverage, chemical and pharmaceutical industries since 1990. IASTECH focuses on improving productivity through process control management systems, and has experience in complete system automation services, such as DCS, batch control, MES and project management.
*Omnicon, S. A. is an engineering firm providing solutions focused on optimizing industrial processes in the consumer products, mining, and oil and gas industries. Omnicon has operations in major cities in Colombia, and experience delivering projects worldwide.
*PIL Automation is a systems integrator focused on oil and gas applications that is dedicated to providing industrial projects engineering, installation and start-up, with an emphasis on planned optimization. The company's headquarters are located in Bogota, Colombia, with branches in Peru, Ecuador, and Houston, Texas.
Encompass Partners
The following are additional details about the Encompass Partner companies in the Asia-Pacific region:
*Chengdu Action Electronics Join-stock Co., Ltd, established in 1998, manufactures gas detection and alarming instruments in China's Chengdu Hi-tech Industrial Development Zone. The company's Chendu Action Action is an ISO9001-2008-certified quality management system.
The new Encompass Partner program member in the Americas region is as follows:
*Powerit Solutions offers Spara DM a proven, online predictive energy management system that allows commercial and industrial users to reduce utility costs through demand management, price response and energy efficiency.
About the Rockwell Automation PartnerNetwork Program
The Rockwell Automation PartnerNetwork program offers global manufacturers access to a collaborative network of companies mutually focused on developing, implementing and supporting best-in-breed solutions to achieve plantwide optimization, improve machine performance, and meet sustainability objectives.
About Rockwell Automation
Rockwell Automation Inc. (NYSE: ROK), the world's largest company dedicated to industrial automation and information, makes its customers more productive and the world more sustainable. Headquartered in Milwaukee, Wis., Rockwell Automation employs over 22,000 people serving customers in more than 80 countries.
Featured Product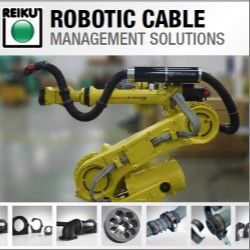 REIKU's Cable Saver™ Solution eliminates downtime, loss of revenue, expensive cable and hose replacement costs, maintenance labor costs. It's available in three sizes 36, 52 and 70 mm. All of the robots cables and hoses are protected when routed through the Cable Saver™ corrugated tubing.The Cable Saver™ uses a spring retraction system housed inside the Energy Tube™ to keep this service loop out of harms way in safe location at the rear of the Robot when not required. The Cable Saver™ is a COMPLETE solution for any make or model of robot. It installs quickly-on either side of the robot and has been tested to resist over 15 million repetitive cycles. REIKU is committed to providing the most modular, effective options for ensuring your robotic components operate without downtime due to cable management. www.CableSaver.com