Arena v14.5 software extends usability of discrete event simulation with 3-D in-process animation of material-handling components
MILWAUKEE, July 25, 2013 - Organizations that are striving to enhance their operational efficiency and reliability can now realize additional value by utilizing the latest release of Rockwell Software Arena simulation software from Rockwell Automation. Arena v14.5 software extends the 3-D animation capabilities of the software to include material-handling components, such as conveyors and transporters.

The 3-D capabilities of Arena software enable users to better visualize the results of their business simulations in a realistic environment. These new capabilities extend this powerful visualization into the materials-handling area. Implemented within the Arena Visual Designer framework, 3-D animation components can be easily dragged and dropped into the simulation environment without the need for programming or coding.
Simulation provides insight into what changes or improvements are necessary prior to project implementation. A manufacturing plant or warehouse, for example, could determine exactly how many forklifts or how many feet of accumulator conveyor are needed in a new or existing facility before building the facility or purchasing the equipment.
"Businesses cannot afford to make costly mistakes when making changes to their business processes," said Rob Kranz, director and general manager, Arena Software, Rockwell Automation. "The addition of 3‑D animation capabilities to material handling is one of the many ways that Arena software continues to provide companies with the means to quickly test and evaluate changes before making them in the actual process."
Users also can import content from popular 3-D modeling programs, such as SketchUp, AutoDesk or Blender. Like the previous version, the Arena v14.5 Visual Designer tool runs on the Microsoft .NET framework to provide common functionality with Windows applications. The .NET framework provides access to charts and graphics available from Microsoft to create customized, impactful graphic dashboards for business presentations.
Arena software is the world's leading discrete event-simulation software. It enables organizations to enhance operational efficiency and reliability by modeling their business processes, testing and evaluating process-improvement options before implementing them in actual operation. The insights gained via Arena software can result in increased throughput, better use of personnel and resources, and shorter processing times resulting in higher profitability. Arena customers include a majority of the S&P 100 companies, as well as many of the world's leading engineering and business schools.
About Rockwell Automation
Rockwell Automation Inc. (NYSE: ROK), the world's largest company dedicated to industrial automation and information, makes its customers more productive and the world more sustainable. Headquartered in Milwaukee, Wis., Rockwell Automation employs over 22,000 people serving customers in more than 80 countries.
Featured Product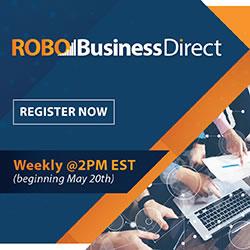 RoboBusiness Direct is built to foster robotics innovation in all its forms, expand robotics business opportunities, and build a community of like-minded problem solvers with the goal of driving the growth of robotics businesses. More than a webinar or virtual event, RoboBusiness Direct is an ongoing, integrated series of presentations and media coverage delivered by brightest minds from the leading robotics and automation companies from around the world - Nuro, FedEx, Lockheed Martin, Samsung, Siemens and more.