Severe shortage of skilled workers due to the disappearance of state-funding training
Farmington, CT - Connecticut Spring & Stamping (CSS), a manufacturer of precision parts for the medical, aerospace, firearms and defense industries worldwide, announces that it has developed its own in-house apprenticeship program to train enough skilled workers to meet its capacity and continue to grow the company. Tailored to the skill sets required for tool and die makers and various spring coiler setup operations, CSS' program replaces formerly state-funded training for skilled manufacturing workers. A diverse group of eleven people are currently enrolled in the program, including five minorities and two women.

CSS' in-house apprenticeship program was created to meet the need for workers to meet its rapid growth rate, which is running at 20-30 percent, year over year. The program includes specific tracks for CNC production set-up, press and fourslide diemakers, stamping press set-up operator, fourslide set-up operator, and heat set set-up operator. To fund the program, CSS takes full advantage of available grants, including the Connecticut Department of Labor's 21st Century Skills Training Program and the Advance Training Grant Program.
Under the direction of a qualified training instructor and using the same guidelines established by the state apprenticeship program for becoming a certified skilled worker in Connecticut, apprentices are trained in tasks assigned to each competency (basic, intermediate, and advanced) for each position. After successfully completing each competency, the apprentice receives an increase in compensation.
"Well-paid manufacturing jobs requiring manual skills are out there, and as the skilled workforce ages, it is becoming more and more difficult to fill critical positions with trained employees," says Kathy Bellemare, director of human resources at CSS. "What training exists has a near-exclusive focus on non-manufacturing skills. While we are extremely proud of the program we have developed, we still hold out hope that technical institutions and local community colleges will step up to fill the void by establishing training programs and internships to meet the needs of manufacturers."
About Connecticut Spring & Stamping
Headquartered in Farmington, CT, Connecticut Spring & Stamping (CSS) is a manufacturer of all varieties of close tolerance precision parts for the medical, electronics, aerospace, firearms and defense industries worldwide. They provide springs, metal stampings, machined stampings & sub-assemblies for OEM's worldwide. In business since 1939, CSS prides itself in design and engineering involvement that starts with product development, and moves through prototyping, manufacturing, and assembly to warehousing and point of use. Headquartered in Farmington, Connecticut, CSS has warehousing facilities in Puerto Rico, Mexico, China, Dongguan and Singapore that allow our customers to build products with just in time (JIT) inventory.
For further information, please visit www.ctspring.com
Featured Product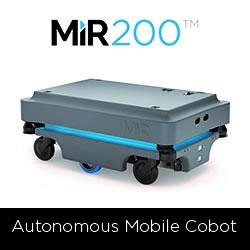 MiR200 is a safe, cost-effective mobile robot that automates your internal transportation. The robot optimizes workflows, freeing staff resources so you can increase productivity and reduce costs. MiR200 safely maneuvers around people and obstacles, through doorways and in and out of lifts. You can download CAD files of the building directly to the robot, or program it with the simple, web-based interface that requires no prior programming experience. With its fast implementation, the robots offers a fast ROI, with payback in as little as a year.