New Swisslog RoboCourier AMR manages automatic doors and elevators and navigates across different units and floors to enable efficient and cost-effective automation of light to medium payloads within hospitals.
Denver, CO July 29, 2013

Swisslog, the leading supplier of automation solutions for hospital material transport, today announced the release of its next-generation RoboCourier Autonomous Mobile Robot (AMR) at this week's 2013 AACC Annual Meeting & Clinical Lab Expo in Houston, TX. RoboCourier automates secure, hospital-wide transport of payloads up to 100 pounds. The next-generation RoboCourier features a complete redesign for better ergonomics and serviceability, updated software, improved storage capacity, automatic interfaces for doors and elevators and secure transport of lab specimens, medications, supplies and protected health information.
Using RoboCourier, hospitals can automate scheduled and on-demand deliveries of laboratory samples, medications and other materials. Autonomous operation frees users for more-critical activities, while saving miles of walking per day for each technician or processor. Easy to use and easy to program, RoboCourier offers the smallest footprint for automated transport and recharges from a standard wall outlet. Its 360◦ turn radius allows it to navigate tight spaces and narrow and crowded hallways, making it ideal for both intra- and inter-department deliveries.
"Automating manual transport of samples and medications frees technicians to focus on tasks that service patients," notes Sandy Agnos, RoboCourier Product Manager. "Hospitals with RoboCourier have a simple, lean solution for improving their workflow processes without facility modification and can see a return on their investment in less than a year."
AACC attendees can see the new RoboCourier in action at Swisslog booth no. 4408 and learn more about optimizing their laboratory workflow through automation. Visit swisslog.com/robocourier for more information.
Swisslog Healthcare Solutions (HCS) is the leading supplier of automation and software solutions for material transport and medication management in healthcare facilities. Swisslog has installed facility-wide and pharmacy automation systems in more than 3,000 hospitals worldwide, including more than 2,000 in North America. Denver-based Swisslog Healthcare Solutions offers total system design, manufacturing, installation and customer support - providing an integrated solution for lean workflow and operations that enhances information access, patient safety and cost efficiency.
About Swisslog
Swisslog is a global provider of integrated logistics solutions for warehouses, distribution centers and hospitals. Its comprehensive services portfolio ranges from building complex warehouses and distribution centers to implementing Swisslog's own software to intra-company logistics solutions for hospitals.
Swisslog's solutions optimize customers' production, logistics and distribution processes in order to increase flexibility, responsiveness and quality of service while minimizing logistics costs. With years of experience in the development and implementation of integrated logistics solutions, Swisslog provides the expertise that customers in more than 50 countries rely on.
Headquartered in Buchs/Aarau, Switzerland, Swisslog currently employs over 2,000 staff in 20 countries worldwide. The group's parent company, Swisslog Holding AG, is listed on the SIX Swiss Exchange (security number: 1232462, Telekurs: SLOG, Reuters: SLOG.S). For more information, visit http://www.swisslog.com.
Featured Product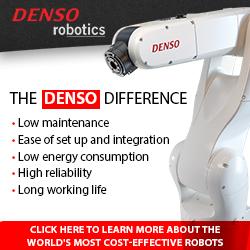 DENSO is the world's largest manufacturer - and user - of small assembly robots, employing over 17,000 of its robots in its own facilities. Over 77,000 additional DENSO robots are used by other companies worldwide. The compact, high-speed robots are used in traditional manufacturing sectors, as well as in advanced-technology applications in the medical, pharmaceutical and life sciences industries. Learn more about DENSO Robotics