Solidoodle announces 3Dörtgen as first distribution partner in Turkey. 3D printer store a first for its nation as well.
Brooklyn, New York July 31, 2013

Solidoodle, the value-leader in desktop 3D printers, is proud to announce that its products will be sold at 3Dörtgen, Turkey's first 3D printer store, located in Istanbul's Camlica district. The store is set to open September 3.
"I am excited to see that the 3D printing and the larger maker movement is a worldwide phenomena," says Solidoodle founder Sam Cervantes. "The addition of 3Dörtgen as a distribution partner is a great opportunity to bring affordable desktop 3D printing to Turkey with a company that has had a strong presence in its own community for decades."
3Dörtgen was founded by Furkan Bakir, who's family firm runs construction and automobile businesses in the area. In addition to carrying desktop 3D printers, including the full line of Solidoodles, 3Dörtgen will also offer 3D scanning; in-store design tools and augmented-reality 3D glasses for visitors to use; professional 3D printing services; and a cafe at its 200 square-meter location.
"After doing business in the automobile and construction industry for more than 35 years, our family decided we wanted to invest in something innovative, creative, and revolutionary. That's 3D printing!" says Bakir.
Fab Lab Istanbul, the first fab lab in Turkey, will also be opened adjacent to the retail location. 3Dörtgen plans to cooperate with the organization to develop workshops, children's activities, seminars and events for the local community.
"We will be donating a Solidoodle to Fab Lab Istanbul, so everyone in the community has access to 3D printing," says Bakir. " I strongly believe in the potential of 3D printing and digital manufacturing. We want 3Dörtgen to be a place in Istanbul where people gather, learn and create together."
Solidoodle was founded in 2011 by aerospace engineer and 3D printing industry-veteran Sam Cervantes with the mission of developing quality 3D printers that are affordable and easy to use. To date, the company has shipped over 5,000 printers to satisfied customers in over 60 countries and is currently expanding its worldwide distribution network, with partners already in the UK, South America, Europe, Asia and the Middle East. For more information about Solidoodle, visit http://www.solidoodle.com.
Featured Product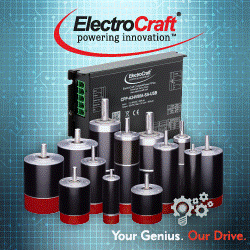 ElectroCraft exhibits its motion control product offer at Robotic related events at trade show and demonstrations across the world. We attend these events and conferences not only to show our motor and drive product offering, but to discuss and learn more about challenges involved with developing commercial robotics across markets.