A moving target indicator system which immediately tracks and maps vehicles and personnel in real-time using video streams from manned or unmanned aircraft.
ROMSEY, England, August 12, 2013 --

Roke, a Chemring Group company, today launches the latest version of its VTA (Visual Target Analysis) product, a moving target indicator system which immediately tracks and maps vehicles and personnel in real-time using video streams from manned or unmanned aircraft.
Modern surveillance aircraft generate thousands of hours of video footage which need to be monitored and analysed by trained operators in order to identify targets of interest. In operational situations where fatigue and target fixation can occur, an important event, which may only last a few frames, can be missed. VTA eases the workload of operators whilst ensuring targets are identified using a variety of techniques that save time, money and improve accuracy
The new VTA 2.0 system will be showcased by Roke at this year's AUVSI Unmanned Systems Show in Washington DC on the UK Trade & Investment (UKTI) stand (no.2135, UK Pavilion, Hall B).
VTA reduces the risk of operator fatigue by automatically alerting them to moving vehicles and personnel. Operators can also immediately identify the precise location of any unusual activity and quickly share that information, converting video footage into actionable intelligence. The enhancements to VTA 2.0 include:
*Simple integration - The VTA 2.0 Application Programming Interface (API) allows it to be integrated in a swift and cost effective manner.
*Improved performance - VTA 2.0 has been re-engineered to be more efficient, requiring less computing resources
*Additional functionality - A stabilised video output to allow clear interpretation of ground events and support for multiple simultaneous channels have been added.
Greg Moore, Business Sector Manager at Roke, said: "The new release of VTA builds on Roke's experience to date in delivering operators the capability to track and map vehicle and personnel movement in real-time UAV surveillance footage. The system provides an operational advantage to operators who are under pressure and is a highly intuitive capability that requires little training before they can quickly deliver useable ground movement intelligence."
Rob Whitehouse will be supporting the AUVSI Unmanned Systems Show in Washington DC and will be available to discuss potential integration and applications for VTA while at the show.
About Roke http://www.roke.co.uk
Roke, based in Romsey, Hampshire, is the principal electronics research and development centre of Chemring Group Plc. Founded in 1956, Roke is one of the UK's leading suppliers of innovative solutions and contract R&D, pioneering developments in electronic sensors, networks and communications technology. It employs 450 staff and has over 430 patents to its name.
About Chemring EOD http://www.chemringeod.com
Chemring EOD, part of the Chemring Group, is a global provider of EOD, Counter-IED, and security systems. With over four decades supporting government agencies, armed forces, and civilian security teams, it has an established track record in making life safer by countering explosive and other threats.
Featured Product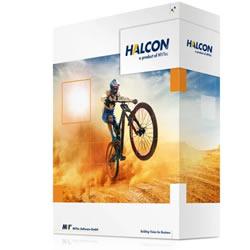 MVTec HALCON is the comprehensive standard software for machine vision with an integrated development environment that is used worldwide in all kind of industries. It enables cost savings and improved time to market. HALCON's flexible architecture facilitates rapid development of any kind of machine vision application. The software provides outstanding performance and a comprehensive support of multi-core platforms, special instruction sets like AVX2 and NEON, as well as GPU acceleration. The latest version HALCON 19.11 offers a wide range of new and improved machine vision functions. Particular emphasis was placed on the integration of further deep learning features. Now users benefit from massive simplifications for their applications, like faster inspection with anomaly detection, more transparency with the Grad-CAM heatmap and the support of ONNX format.