New to AUVSI 2013 is the C-B4™ multispectral autonomous detection sensor
CHARLOTTE, N.C., Aug. 8, 2013 -- UTC Aerospace Systems will showcase new and advanced products for unmanned aerial and underwater applications, suitable for defense, law enforcement, fire-fighting and security applications at the AUVSI show, which takes place in Washington, DC on August 12-15. UTC Aerospace Systems is a unit of United Technologies Corp. (NYSE: UTX).

Prominently featured on booth 3013 will be the Cloud Cap Technology TASE gimbals, which offer the highest performance with the lowest SWaP (size, weight and power) in the industry. This includes the recently announced TASE 400DXR (Daylight Extended Range), which brings long range ISR to the tactical level. Cloud Cap Technology Piccolo autopilots, the industry standard in open architecture autopilots, providing feature rich capabilities with superior performance and reliability will also be on display.
New to AUVSI 2013 is the C-B4™ multispectral autonomous detection sensor, compatible for unmanned aerial systems (UAS) and small aircraft. In addition, fuel cell power and energy systems will be highlighted for unmanned aerial vehicles (UAV) and unmanned underwater vehicles (UUV). At the core of these systems is a fuel cell, currently in production and qualified for operation on a submarine, which provides a safe and reliable system solution with endurance greater than advanced batteries.
For the small UAS market, UTC Aerospace Systems will showcase their Vireo™ UAS, along with their terrain proximity (TERPROM) navigation software and inertial sensors suitable for small and large UAS to aid guidance, navigation and control.
Sensors Unlimited short-wave infrared (SWIR) cameras will be on display. These cameras offer the SWIR capability in an extremely compact format, with high resolution. Their lightweight size and ruggedized format makes them especially suitable for applications in smaller UAVs, while still being able to see through obscurants such as fog, haze and smoke.
Technical teams will be on hand throughout the show for expert demonstrations and to answer questions on all products displayed.
UTC Aerospace Systems designs, manufactures and services integrated systems and components for the aerospace and defense industries. UTC Aerospace Systems supports a global customer base with significant worldwide manufacturing and customer service facilities.
United Technologies Corp., based in Hartford, Connecticut, is a diversified company providing high technology products and services to the building and aerospace industries.
www.utcaerospacesystems.com
Featured Product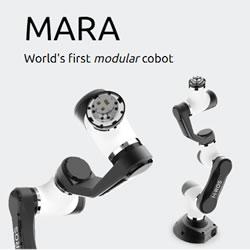 Built out of individual modules that natively run ROS 2.0, MARA can be physically extended in a seamless manner. The modular robot arm delivers industrial-grade features such as a high-speed real time enabled ROS 2.0 communication interface, security protections or a hardware power lifecycle.