EMCORE Corporation, a leading provider of compound semiconductor-based components and subsystems for the fiber optics and space solar power markets, today announced the release of the new EMP-3, EMP-4 and EMP-7 Fiber Optic Gyroscope (FOG) modules, expanding the Company's EMP FOG platform with the latest generation navigational grade fiber optic gyro technology.
The EMP-3, EMP-4 and EMP-7 augment EMCORE's FOG product line between the tactical grade EMP-1 and the navigational grade EMP-1.2K. These latest models feature performance specifications ideal for medium accuracy platform stabilization applications such as camera systems used in aircrafts and Unmanned Aerial Vehicles (UAVs), as well as a variety of other guidance, navigation and aeronautics applications. The availability of these new navigational grade models provides customers with greater flexibility to choose the performance parameters that best meet their application.

EMCORE's latest EMP-3, 4 and 7 FOG modules operate over a broad distance range with a typical bias drift from 0.2 degrees per hour for the EMP-3, to a mere 0.005 for the EMP-7. Bias drift is an important measure of accuracy and precision of the FOG, with lower bias models delivering higher performance overall. Like all EMCORE FOG modules, the EMP-3, EMP-4 and EMP-7 feature advanced integrated optics and closed-loop Digital Signal Processing (DSP) electronics to deliver higher accuracy, lower noise, greater efficiency, improved drift stability and higher linearity than competing technologies.
EMCORE develops most of the key FOG components internally including the optical transceiver and the lithium-niobate modulator. This allows performance parameters to be customized to specific customer requirements at price levels equivalent to, or less than that of lower-performance open-loop designs. Like the original EMP-1 and EMP-1.2K modules, the EMP-3, 4 and 7 are compact, lightweight and rugged, with very low power consumption requirements.
"These latest additions to our EMP FOG platform further leverages EMCORE's unique vertical integration capabilities to expand our product line with navigational grade models that deliver greater precision and customization flexibility to our customers," said Dr. K.K. Wong, Director of Fiber Optic Gyro Products for EMCORE. Frank Weiss, EMCORE's Vice President of Advanced Systems, added, "Our latest FOG modules models achieve new standards in price-performance within the highly-flexible EMP platform."
EMCORE's complete line of FOG products will be featured at AUVSI's Unmanned Systems Conference, August 13-15 in booth #1949 at the Walter E. Washington Convention Center in Washington, DC.
About EMCORE
EMCORE Corporation offers a broad portfolio of compound semiconductor-based products for the fiber optics and space solar power markets. EMCORE's Fiber Optics business segment provides optical components, subsystems and systems for high-speed telecommunications, Cable Television (CATV) and Fiber-To-The-Premise (FTTP) networks, as well as products for satellite communications, video transport and specialty photonics technologies for defense and homeland security applications. EMCORE's Solar Photovoltaics business segment provides products for space power applications including high-efficiency multi-junction solar cells, Covered Interconnect Cells (CICs) and complete satellite solar panels.
Source: http://www.emcore.com/
Featured Product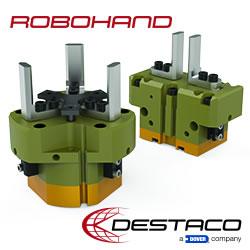 Automatically change end effector tooling quickly and easily with Destaco's Automatic Tool Changers. Designed with exceptional repeatability, high rigidity and load capacity, they are perfect for multiple tooling applications utilizing one robot. We offer different models and sizes to handle light-duty to heavy-duty applications. Our RQC/RTP Series provides a high level of flexibility with a configurable, modular design that accommodates up to four optional modular interfaces.