Revolutionary fitness and rehabilitation company expands product portfolio with the first wearable bionic leg
FREMONT, Calif., Aug 19, 2013 -- AlterG™, the revolutionary training and rehabilitation company that launched the first Anti-Gravity Treadmill, has announced the launch of the AlterG Bionic Leg, a battery-powered, wearable robotic training device activated by patient initiated movement. The AlterG Bionic Leg made its debut at the APTA Conference & Exposition in Salt Lake City, Utah, on June 26, 2013.

Used by physical therapists on patients with impaired mobility, the AlterG Bionic Leg strengthens stance, improves gait, and enhances active motor learning while protecting its user. Currently, it is a crucial component for stroke rehabilitation and therapy for patients with chronic, degenerative neurological gait impairment including Parkinson's disease and Multiple Sclerosis (MS). The Bionic Leg has also proven to be of high value in rehabilitation therapy for orthopedic injury.
"We are building a world-class portfolio of the most innovative and important rehabilitation tools available to the medical and fitness markets," said AlterG CEO Steve Basta. "The addition of the Bionic Leg continues our efforts to help people rehab quickly, safely and effectively."
The Bionic Leg provides the specific assistance needed by patients to participate more actively in sit-to-stand, overground walking and stair climbing exercises that are critical to the recovery of gait and balance. When a patient begins to stand up or ascend a stair, the software's sensors use the patients shifting weight and the position of the leg to detect when assistive force is needed for leg extension and will help lift the patient. When the patient wants to sit down or descend stairs, the device applies a resistance force to provide controlled descent. While walking, the device allows the leg to move freely during the swing phase, while providing added support during the stance phase. The Bionic Leg can be used to provide physical support and therapy across markets where patients suffer with mobility impairment and gait deficits.
The Bionic Leg, originally created and marketed by Dr. Robert Horst, of Tibion, comes to AlterG through a recent company acquisition. The acquisition of Tibion by AlterG will provide additional resources to grow Bionic Leg placements and increase production, expanding its availability worldwide.
"I am excited by the new opportunities that will result from the recent acquisition of Tibion by AlterG," said, Dr. Robert Horst, the inventor of the Bionic Leg and the Chief Technology Officer of Robotics at AlterG. "The additional resources in manufacturing, sales and engineering will allow us to ramp production and make Bionic Leg therapy available to a much larger population of patients throughout the world."
The AlterG Bionic Leg is currently available in over 100 hospitals, physical therapy facilities and skilled nursing facilities worldwide. The AlterG Bionic Leg was the recipient of the 9th annual Invention and Entrepreneurship Award in Robotics and Automation (IERA) during the 2013 International Conference on Robotics and Automation in Karlsruhe, Germany. For more information on AlterG, please visit www.alter-g.com. For more information on AlterG Bionic Leg, please visit www.tibion.com
About AlterG
AlterG, Inc. is revolutionizing modern rehabilitation through the use of the cutting edge Anti-Gravity Treadmill® and Bionic Leg. The AlterG Bionic Leg™ is a wearable, battery-powered, robotic mobility assistance device activated by a patient's intent to move. The Bionic Leg is currently available in over 100 hospitals, physical therapy facilities and skilled nursing facilities worldwide. The AlterG Anti-Gravity Treadmill® technology was originally developed for NASA and is the first FDA-cleared medical device that uses patented differential air pressure technology. AlterG products are used by major medical centers, leading physical therapy clinics, top professional and collegiate teams and athletes, and individual sports and fitness programs worldwide.
Featured Product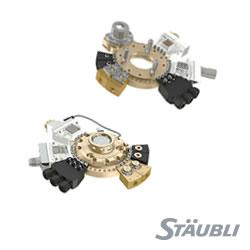 Stäubli is a pioneer in the construction and development of robotic tool changing systems. Our customers benefit from our many years of expertise in all industry sectors, as well as our modular product concept, which offers three efficient solution paths: MPS COMPLETE offers preconfigured robotic tool changers for immediate use. MPS MODULAR allows the user to determine the configuration, while MPS CUSTOMIZED allows the construction of special, application-specific systems.