The Seegrid-Trilogiq partnership is a model in the industry.
PITTSBURGH, PA-Seegrid awarded Trilogiq USA the first-ever Partner Achievement Award on August 10, 2013 at the national headquarters of Trilogiq USA in Livonia, Michigan. Seegrid is the maker of robotic industrial trucks also known as flexible vision-guided automated guided vehicles (AGVs) to the material handling industry. Seegrid established the new Partner Achievement Award to announce the best practice in the company's strategic alliances and will only be awarded as deserved, rather than on a scheduled basis.

John Hayes, Seegrid's Vice President for US Sales and Marketing commented, "Seegrid is proud to present Trilogiq USA with the Seegrid Partner Achievement Award. Trilogiq's commitment and execution to selling Seegrid flexible AGVs, robotic industrial trucks is why they are receiving this award. The Seegrid-Trilogiq partnership is powerful and this strategic partnership will continue to positively impact manufacturing and distribution facilities with risk-free automated guided vehicles."
The Seegrid-Trilogiq partnership is a model in the industry. Trilogiq USA was founded in 2000 to provide material handling solutions to manufacturing organizations, with an initial focus on the automotive industry. Working in all production and manufacturing industry sectors drove the company to develop into a full service implementer of production process improvement solutions to better serve customers' needs.
Luman Temby, Director of Operations for Trilogiq USA accepted the award, humbly noting, "I am proud to accept the Seegrid Partner Achievement Award on behalf of the Trilogiq USA team. Both of our companies share a commitment to superior customer support and value creation, and connecting Seegrid's world-class technology with Trilogiq USA's sales presence and material handling solution development has generated outstanding results for our customers. We look forward to our continued mutual success."
Jason Bullard, Trilogiq Sales Engineer, added, "Being a full service provider, Trilogiq USA has the very best business partners to help our customers with material handling needs. Seegrid is one of those partners. From their professionalism and support on this project they have shown they are dedicated to making sure the customers' needs are heard, understood, and exceeded. I am pleased to accept this award on behalf of Trilogiq USA and look forward to future projects having Seegrid as a partner."
About Seegrid:
Seegrid Corporation (www.seegrid.com) provides simple, affordable, flexible vision-guided automated guided vehicles (AGVs) to the material handling industry. Seegrid robotic industrial trucks, flexible AGVs, are revolutionizing the movement of materials in manufacturing and distribution environments. Seegrid automated pallet trucks and tow tractors optimize workflow processes by increasing productivity and reducing costs, creating economic and operational advantages. Robotic industrial trucks deliver a rapid return on investment, improve facility safety, and reduce equipment and product damage. Fast Company magazine named Seegrid as one of the Top 50 World's Most Innovative Company in 2013 and among the Top 10 World's Most Innovative Robotics Company in 2013. Follow Seegrid Corporation on Twitter at @Seegrid.
Featured Product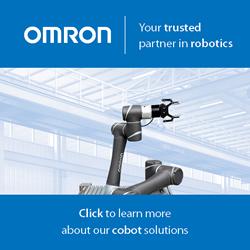 Humans and robots can now share tasks - and this new partnership is on the verge of revolutionizing the production line. Today's drivers like data-driven services, decreasing product lifetimes and the need for product differentiation are putting flexibility paramount, and no technology is better suited to meet these needs than the Omron TM Series Collaborative Robot. With force feedback, collision detection technology and an intuitive, hand-guided teaching mechanism, the TM Series cobot is designed to work in immediate proximity to a human worker and is easier than ever to train on new tasks.