MOUNT OLIVE, NJ, MAY 14, 2013 - Integrated Microwave Technologies, LLC (IMT), a Business Unit within the Vitec Group's Videocom Division, and a CTx CTxII Concealment Transmittersleader in advanced digital microwave systems for MAG (Military, Aerospace & Government) markets, is pleased to announce its new Concealment Video Kits (CTVK), complete video solutions that allow law enforcement, border security and government agency professionals to survey an area covertly for documented video evidence using a wide range of indoor and outdoor hides with integrated video transmitters, such as standard GPS stands, outdoor colonial and street lights, alarm clocks and fire detectors, and even a mock owl that can be positioned in a tree.

The CTVK is a convenient, all-in-one kit comprised of a hide with an integrated miniature Concealment COFDM Transmitter (CTxII), a COFDM briefcase Mobile Viewer Receiver, a Nexus 7 Android tablet for transmitter control, battery chargers and all required cabling. Housed in a robust, portable carrying case, the CTVK uses COFDM digital RF transmission for superior quality evidence video. This level of performance is unattainable with conventional analog or 802.11 (Wi-Fi) products.
IMT designed the entire line of video concealment hides to accept either its CTx or CTxII ultra-small, low-power, SD, COFDM video/audio transmitters. Each product in the line also comes equipped with eConn Graphical User Interface (GUI) software, which allowsiMT Clock Radio Hide users to change frequency plans, modify AES encryption keys or assign unit names to each transmitter remotely. The eConn GUI connects through a mini USB connector (or Bluetooth® for the CTxII) and enables an administrator to configure up to 16 different frequency plans, with access control to prevent unauthorized changes by the user.
"From inside a vehicle to video surveillance from the street level and indoor concealments, IMT's goal is to provide secure, reliable and complete integrated solution packages for law enforcement and governmental agencies," says Integrated Microwave Technologies Divisional Chief Executive Stephen Shpock. "All IMT concealments employ an internal heat sink and quiet cooling system to allow for continuous operation at the highest RF levels. The design is RF transparent, enabling the full transmission of both the RF signal and the Bluetooth remote control signals."
GPS Holder HIdeThe IMT family of Concealment Transmitters (CTx and CTxII) includes ultra-small, low-power, SD, COFDM, video/audio transmitters with standard selectable modulation bandwidths of 6, 7 and 8 MHz. They feature H.264 SD encoding and operate in the standard 2k DVB-T COFDM mode, and are specifically designed to be integrated into a system featuring a 10-pin standard Molex interface connector, which is ideal for rapid integration. Their low-power consumption makes them ideal for integration with cameras into very small concealed hides. They can be operated in 1.25-MHz or 2.5-MHz narrow-bandwidth COFDM (NBCOFDM) modes (optional). These modes use the RF spectrum more efficiently, allowing users to employ more transmitters simultaneously or extend their useful range. Narrow bandwidth also delivers an extended usable range with no additional power output required. This saves battery power and extends operational runtimes.
While IMT's GPS Stand (VVC-GPS) is a standard commercial off-the-shelf product, the small form factor of the CTx and CTxII makes it possible for users to custom integrate them into numerous vehicle devices. The GPS Stands' articulating suction cup mount allows itIMT Smoke Detector Hide to be mounted on the dash or windshield, and positioned for optimal viewing. It is specifically designed to mimic a standard Magellan GPS unit.
The fully operational IMT Street Light and Colonial Light hides (OVC-SL, OVC-CL) are based on a standard GE cobra-head light assembly. The internal components consist of a motorized camera system, Axis Q7401 video encoder, router, cellular interface and support for COFDM microwave transmission equipment. The motorized camera system takes the place of the normal light sensor and is designed with a removable top cap, allowing the user to change the top to match sensors in the target area. A multiband cellular and S- or C-band microwave antenna is incorporated into the top of the light. A fully functional router is embedded into the light, providing strong, flexible security options for the IP control/video stream.
IMT's CTx and CTx-II can also be custom integrated into numerous indoor appliances or utility boxes. IMT's line of indoor video concealments includes the fully functional Smoke Detector (IVC-SD) and Clock Radio IMT Street Light Hide(IVC-CR). Each indoor concealment features low-light, high-resolution Sony EXview HAD CCD II imaging cameras, with a 120-degree wide-angled lens, to provide color images in normal or low light. The devices also include a high-fidelity miniature microphone for crisp audio. The Sony clock radio features a removable bottom plate for easy access to the manual channel selection of the transmitter. The smoke detector features a two-piece mounting system that allows the unit to be rotated into position, for optimal line-of-sight, after it is attached to the ceiling.
IMT's CTVK includes the Mobile Viewer Receiver, a dual-input, COFDM diversity receiver with integrated antennas and a rechargeable battery. The unit is designed with an LCD screen, along with a GUI, for handheld operation. It offers exceptional RF performance with superb H.264 or MPEG-2 decoding. The unit displays video on a built-in, internal nine-inch, 16:9-format, high-brightness-resolution LCD display. Much more than a COFDM handheld receiver, the Mobile Viewer can send video over Ethernet to remote software or hardware decoders. This allows multiple remote viewers to monitor the same video simultaneously.
Featured Product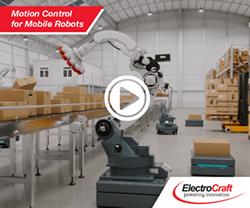 The new MPW86 offers a best in class 500lb per wheel load with speeds of up to 4.3 meters/second. The MPW86 offers powerful starting torque of 35 Nm and 20 Nm continuous. The MPW86 integrated design provides increased performance and reliability at an affordable price compared to traditional motor/gearbox/wheel combinations. The MPW86 is an ideal drivetrain solution for medium to large payload mobile robots and AGVs.