FTR Systems, Inc., a technology company that creates innovative products using robotics, is pleased to announce the arrival of its new model of robotic golf caddy, the CaddyTrek. Golfers can control the golf caddy by remote control or through a "tracking mode" that allows the product to follow the golfer across the green.
Las Vegas, NV August 20, 2013

FTR Systems Inc., a technology company that specializes in electric-powered devices using robotic-sensing technology, announced the newest model of its CaddyTrek golf product this week. The CaddyTrek carries a golfer's bag and gear, while allowing the player to control the caddy hands free.
Richard Nagle, US and International Sales Manager for the CaddyTrek product, touted the newest version as the company sees markets open up in Europe. "This newest CaddyTrek is totally global," says Nagle, "certain to take the entire golf would by surprise....best new caddy on market internationally."
Golfers can control the golf caddy unit a number of ways, as the CaddyTrek operates using a remote or by way of "follow-mode." The follow-mode feature employs the company's patented follow-technology, using robotic sensors to track angle and distance as the player walks across the green. The golf caddy keeps pace with the player on flat, wide-open spaces and battery life for the unit allows a player to complete up to 27 holes.
FTR Systems executive, Jerry Lee, sees great potential in the technology. "The timing is right, the market is right, and the technology is certainly right. It is thrill to see so many CaddyTrek robots roaming around the golf courses."
The company sees health benefits in its robotic golf caddy product, helping players take the burden off of carrying a bag and freeing them up to take advantage of walking the course, versus driving a cart.
FTR Systems first released the CaddyTrek in March of 2012. Since then, the company continues to see growing interest and sales for the product. The company recently published some of the latest upgrades to the product, including:
*Better tracking ability due to higher signal strength
*Multi-unit capability allowing two units to walk side by side
*Shorter bootup time for the OS
*Increased top speed
*Larger 5th Wheel for better stability
*Lighter and more compact
*Signal frequency hopping providing better interference resistance
*Lighter and more compact for easy storage
The company plans on showcasing the new model at golf shows and related events throughout the U.S. and Europe in the coming year. The product can also be viewed by visiting the company's website http://www.caddytrek.com.
Featured Product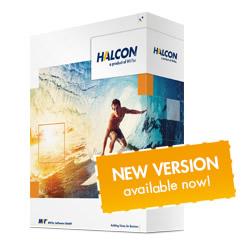 The newest version of MVTec HALCON is here to solve all of your machine vision tasks at utmost speed and robustness! Deep learning functions, like pixel-precise semantic segmentation or object detection, help you to identify and classify objects and flaws more flexibly and easier than ever before - HALCON extracts relevant image information automatically. Try it for free here!