"Machine Safety Market (2013 - 2018) by Products (Presence Sensing Sensors, Emergency Stop Controls, Interlocks, Relays, PLC), Applications (Assembly, Metal Works, Packaging, Robotics), Standards (European, North American), Geography" is the new market research report added to ReportsnReports.com store.
Dallas, Texas

August 25, 2013
Global machine safety market is expected to reach $4,197.04 million by 2018, at an estimated CAGR of 9.02% from 2013 to 2018 with metal working, packaging and robotics application contributing to the global machine safety application market with a share of 63% in 2012 and continue to remain stable till 2018.Europe is the leading region in the overall machine safety market with 52% of market share in 2012; followed by North America and APAC with 22% and 20% each in 2012. In ROW, Russia, Brazil and the Middle East are the largest contributors with total share of 6% occupied in global machine safety market.
Machine have been an important part of our lives since years, however, past fifty years have seen a rapid increase in the use of machines for industrial as well as our day-to-day activities. This growth was due to the advancements in technology and automation which helped to make machines efficient and safe. The advancements however, were helpful in preventing accidents only till certain limit, they were not completely foolproof. This issue gave rise to the machine safety components and solutions market. The report discusses the market on qualitative as well as quantitative front of machine safety.
The segmentation of the global machine safety market (http://www.reportsnreports.com/reports/267471-machine-safety-market-2013-2018-by-products-presence-sensing-sensors-emergency-stop-controls-interlocks-relays-plc-applications-assembly-metal-works-packaging-robotics-standards-european-north-american-geography.html ) revolves around four major parameters. These parameters are: components, applications, verticals, and geography. The components chapter of machine safety market is further segmented in to sensors, switches, interlocks, relays, controllers, and other electronic devices. Each of the type is discussed in detail along with the sub-segmentation. The sub-segments include qualitative as well as quantitative data for each type of the component. The applications chapter gives the list of various operations that can be performed using machine safety solutions. The list includes operations such as; positioning, controlling, measuring, inspection, and identification. Each of the above mentioned application type is segmented according to industry verticals and geography. The cross segmentation data included in the report gives a deep insight about the application specific regional markets.
One of the major segments covered in the machine safety report is the market segmentation by industry verticals. This chapter focuses on the adoption and penetration of machine safety components and solutions in each of the below mentioned industry verticals. The verticals covered are: automotive, packaging & material handling, semiconductor & electronics, pharmaceuticals, food & beverages, machine tools, and printing. Each of the vertical is cross segmented by components, applications, and geography. Apart from the technical segmentation, report also covers the regional market data. Major regions considered for the analysis are North America, Europe, APAC, and ROW.
The machine safety report also includes value chain analysis, porter five force analysis of augmented and virtual reality market, and brief description of various machine safety standards. The major companies covered in the report are; Siemens AG (Germany), ABB Ltd. (Switzerland), Banner Engineering Corp. (U.S.), Emerson Electric Co. (U.S.), Honeywell International Co. (U.S.), and Rockwell Automation, Inc. (U.S.).
Buy a copy of report @ http://www.reportsnreports.com/purchase.aspx?name=267471 .
Company Profiles (Overview, Products And Services, Financials, Strategy & Development):
1. ABB LTD.
2. Ametek, INC.
3. Eaton CORP. PLC
4. Emerson Electric CO.
5. Honeywell International, INC.
6. IFM Electronic Gmbh
7. K. A. Schmersal Gmbh & CO. KG.
8. Leuze Electronic Gmbh & CO. KG
9. Mayser Gmbh & CO. KG.
10. Mitsubishi Electric Corporation
11. Omron Corporation
12. Pepperl+Fuchs Gmbh
13. Pilz Gmbh & CO. KG.
14. Rockwell Automation, INC.
15. Schneider Electric S.A.
16. Sense EletrĂ'nica LTDA.
17. Sick AG
18. Siemens AG
19. Sitema Gmbh & CO. KG.
20. Wenglor Sensoric Gmbh
Explore more reports on IT & Telecommunication Market @ http://www.reportsnreports.com/market-research/information-technology/ .
About Us
ReportsnReports.com is an online market research reports (http://www.reportsnreports.com/) library of 200,000+ reports and in-depth studies of 5000+ micro markets. Our database includes reports by leading publishers from across the globe.
Featured Product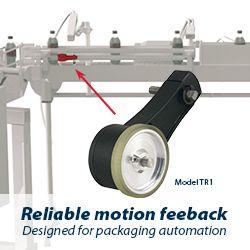 EPC is excited to announce our NEW online 3D Configurator. This new tool makes it even easier to configure EPC's products exactly how you need them for your application. The 3D Configurator interface is intuitive and works in any web browser for both desktop and mobile. It'll only take you a moment to learn your way around the program. Careful, though: it's so fun to play with, you may spend a whole afternoon on it!