Alelo-led team will develop a robot to engage children in Chinese language learning and improve student outcomes.
Los Angeles, CA August 27, 2013

Alelo Inc., together with RoboKind and Curious Lab LLC, has won a contract from the National Science Foundation to develop and evaluate a lifelike conversational robot to help children learn foreign languages.
The project, named RALL-E, will take RoboKind's Zeno R25 robot and adapt it into a language learning tool, initially for Chinese. Students will use it to develop and practice their foreign language conversational skills.
"Robots can revolutionize the way people learn foreign languages, especially difficult languages such as Chinese," said Alelo's President and CEO, Dr. W. Lewis Johnson. "Many language learners fail to progress due to anxiety and lack of confidence. We believe that social robots will break down these barriers to learning. The robots will be fun, engaging, and non-threatening. Many kids will be motivated to learn some Chinese just so they can interact with the robot."
The Virginia Department of Education is collaborating with Alelo on the project, and will assist in recruiting districts and schools to participate. Many schools in Virginia have difficulty attracting qualified Chinese teachers, and many Chinese programs suffer from student attrition. The RALL-E project will address both problems. It will make high-quality language learning experiences available to many more learners, and help grow and maintain enrollments in language courses.
RALL-E builds on Alelo's leading-edge innovations in simulation-based language learning technology, and RoboKind's advances in low-cost lifelike robot technology. "We will soon have lifelike robots that are so affordable that every child can have their very own robot to practice with," said Fred Margolin, CEO of RoboKind.
About Alelo Inc.
Named after the Hawaiian word for "language," Alelo is dedicated to the development of advanced learning products that promote cross-cultural communication skills. Alelo is headquartered in Los Angeles, CA, with an office in Suffolk, VA. For more information, please visit http://www.alelo.com.
Featured Product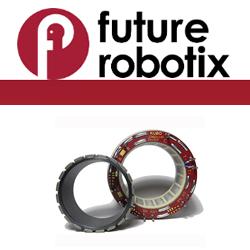 Less expensive direct replacements for RoboDrive motor kits with higher torque density, hollow shaft, low power-to-weight ratio, highest dynamics, exact linearity, low cogging torque. Available in sizes 38mm - 170mm. Available today at futurerobotix.com