Safety-Critical is a term engraved in CERTON's reputation and is of major interest to all parties involved in the development lifecycle on unmanned vehicles in the National Air Space. CERTON has positioned themselves as the go-to providers in certification for the evolving standards in the UAV world.
Melbourne, FL September 09, 2013

The expanding use of unmanned aerial vehicles in the National Air Space raises serious questions regarding flight safety. A primary concern is the intrusion of these aircraft into space used for commercial and general aviation. The unmanned vehicles range in size from that of model aircraft up to the size of light planes. Malfunctioning equipment could potentially allow the unmanned craft to collide with another aircraft causing serious injury or death to passengers or civilians on the ground.
One approach to resolve this latent danger is to require that software and electronic hardware equipment used on unmanned aircraft is approved for safety of flight through the Federal Aviation Administration in much the same manner as all other aircraft that use the National Air Space. As the primary interest of CERTON is to ensure that all safety-critical software and complex hardware systems that may pose a threat to flight safety meet all applicable standards. CERTON CEO, Tim Stockton, stated, "This conference presented an excellent opportunity for us to meet with avionics manufacturers and government representatives concerned with UAV safety issues. CERTON is focused on providing the highest level of safety assurance for UAS software and electronic hardware systems." With nearly 600 exhibitors, CERTON attendees were able to meet with a diverse cross section of the industry and discuss the important issues facing them in the very near future.
For more information on where the industry is going regarding the application of standards visit:
http://www.militaryaerospace.com/blogs/aerospace-defense-blog/2013/08/unmanned-vehicle-industry-stands-at-the-doorstep-of-a-fundamental-transformation.html?cmpid=EnlMAEAugust212013.
CERTON provides safety-critical engineering services to both industry and government agencies that will bring approved products to unmanned aircraft, thereby alleviating concerns over these intruding into the National Air Space. CERTON's attendance at the AUVSI conference provided critical networking and gathering of information that will be useful in addressing the serious questions involved in flight safety concerns.
Over the past 7 years, CERTON has established its identity with unparalleled safety-critical certification solutions in the Aerospace, Medical, and Transportation industries. CERTON has internally developed tools and technology to streamline certification of safety-critical systems, software, and complex hardware in order to minimize the time-to-market of customer products for a Firm-Fixed Cost. CERTON provides expertise in all phases of the systems, software, and complex hardware product design life cycle to support rapid certification of safety critical customer products that is quality centric.
Contact CERTON today at sales(at)certon(dot)com or visit http://www.CERTON.com to see how CERTON can reduce the overall cost of your safety critical product certification.
Featured Product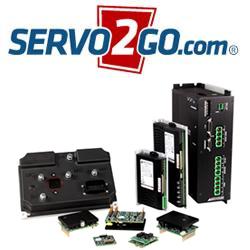 Engineered to drive brushless and brush servomotors in torque, velocity or position mode, Servo2Go.com offers a broad selection of servo drives in a wide range of input voltages and output power levels.