High Speed servo driven rack and pinion drive increases performance and delivers programming flexibility; Customizable for nearly any food processing, clean room or sanitary application; See Servo Reciprocator Shuttle at Pack Expo Las Vegas, September 23-25, Booth C-2117 and International Baking Industry Exposition, October 6-9, Booth 11410.
Newburyport, MA September 10, 2013

KLEENLine, the industry leader in custom sanitary material handling equipment, is featuring its high-speed Servo Reciprocator at Pack Expo Las Vegas, September 23-25, Booth C-2117. KLEENLine's customizable system boasts the industry's fastest cycle times at 60 CPMs for a 42-inch stroke and provides the ideal solution for belt loading and product distribution efficiency. The new reciprocator will also be featured at the International Baking Industry Exposition in Las Vegas, October 6-9, Booth 11410.
The KLEENLine Servo Reciprocator gently and precisely transfers a single stream of product into multiple rows and orients them for efficient processing or packaging. Additional applications include array formation, right angle transfers and loading of ovens, multitiered cooling conveyors, proofer flights, and bakery pans when paired with servo-controlled indexing conveyor.
The all stainless steel, heavy wash down reciprocator system handles a wide range of product types, and is easily configurable for a broad range of speeds, belt widths (up to 72 inches), stroke length and specialized handling needs. The Allen Bradley / Rockwell based control architecture provides easy-to-use, flexible programming for efficient performance that matches specific customer needs. Separate adjustments for belt speed and reciprocator acceleration and deceleration rates allow easy integration with peripheral equipment and further ensure efficient, gentle product handling. Additional standard features include all servo control, optical sensor trigger with learning capability, and variable indexing.
"KLEENLine's High Speed Reciprocator offers customers an advanced shuttle for high pressure washdown environments that improves belt loading efficiency, reduces manpower requirements and provides superior product control," said Eric Oberg, KLEENLine Vice President of Operations. "We pride ourselves in quickly delivering high performance, ultra-sanitary solutions tailored to our customers' specific needs. We provide personal attention and are committed to the highest standards of product quality and service."
About KLEENLine
KLEENLine designs and builds stainless steel material handling equipment concentrating on companies that handle food, pharmaceuticals, and other clean room dependent products. KLEENLine builds strong relationships with its customers based on understanding their unique requirements and delivering the highest performance. Adherence to sanitary standards and compliance with BISC, USDA, and FDA standards is a long-standing KLEENLine commitment. Solution and services focus on ultra-sanitary design and construction, solving difficult applications, fast turnaround, and personally delivering all required resources in-house. For more information about KLEENLine, visit its website at http://www.KleenLine.com.
About Pro Mach
Pro Mach is a leading provider of integrated packaging products and solutions for food, beverage, household goods, pharmaceutical, and other diverse consumer and industrial companies. Through multiple business units and related brands, Pro Mach provides equipment, installation, training, parts, and service in primary and secondary packaging, flexible packaging, end-of-line packaging, material handling, and identification and tracking.
Pro Mach has a diverse customer base, from Fortune 500 companies to smaller, privately-held businesses worldwide, which depend on reliable, flexible, technologically advanced packaging equipment and integrated solution sets. Pro Mach is headquartered near Cincinnati, Ohio with manufacturing facilities and offices throughout the United States and Canada. For more information about Pro Mach visit our website at http://www.ProMachInc.com.
Featured Product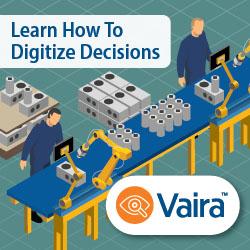 Smart devices and edge processing are considerable assets to vision as it continues to progress towards Industry 4.0. Through these compact, lightweight, lower cost devices, alongside cloud-based processing, machine learning and AI capabilities are becoming more and more prominent in the industrial automation market.