Total of 7,022 visitors came to the 25th VISION in Stuttgart - Further increase in the international character of the leading world trade fair - Visitors very interested in applications - 2013 date brought forward to September
The 25th VISION, the world's leading trade fair for machine vision, was held in Stuttgart from 6 to 8 November 2012 and attracted a total of 7,022 visitors, nearly as many as in the previous year (2011: 7,055). Just like in 2011, 36 percent of these visitors came from abroad. Visitors from 53 countries were represented. They primarily came from Italy, Switzerland, Austria, France, the Netherlands and Great Britain. From overseas visitors from Korea, the USA and Japan were mainly represented. Accordingly, around every fourth visitor (26 percent) travelled by plane.

Under the motto "One VISION" this year for the first time all exhibitors were united in the L-Bank forum, the high-roof hall 1. 372 exhibitors (2011: 351) came to the anniversary event of VISION, a new record. 49 percent of exhibitors came from abroad (2011: 46 percent), i.e. the highest number ever. They came from 32 countries. All key players from the machine vision industry took part in the trade fair. They brought with them components such as cameras, vision sensors, frame grabbers, software tools, illumination systems, lenses, accessories, as well as complete systems and application solutions.
"We are delighted that VISION also clearly demonstrated its international orientation this year. The further increase in the number of foreign exhibitors is a great success for VISION and the machine vision industry", concluded Dr. Olaf Munkelt, Chairman of the Executive Committee of the VDMA Machine Vision Association, Frankfurt, and Managing Director of MVTec Software GmbH, Munich.
In the 25 years of its existence, VISION has grown up with the machine vision industry and, as a competent presentation and communication platform, has helped to promote the growth of this industry. Machine vision (MV) is now one of the important key technologies in German industry and is used in nearly every branch of the economy. Industrial sectors such as medical technology, traffic monitoring and management, agriculture and security technology cannot now manage without machine vision.
Consequently, the visitors at VISION 2012 came from many different industries. A significant increase in the proportion of visitors from industry was recorded, i.e. from 73 to 76 percent. Generally speaking, industrial visitors came primarily from the machine vision industry itself (40 percent). However, second place was occupied by visitors from the mechanical engineering industry with 20 percent (2011: 15 percent). The following places were taken by the visitor industries of electrical engineering/electronics, precision mechanics/optics, the automotive and components supply industry, and medical technology. The 'Medical Discovery Tour' was held this year for the second time primarily for the last visitor target group. 38 exhibitors took part in this event and presented goods and services specially for medical technology. A significant proportion, 32 percent, is involved in development, almost every fourth person came from the research sector.
Visitors again showed a high level of expertise. 84 percent of respondents said that they were involved in purchasing and procurement decisions in their company. There was a further increase in the propensity to invest as 87 percent of visitors came to VISION 2012 with investment and/or purchasing intentions (2011: 85 percent). This clearly indicates that the machine vision industry can still rely on a stable economic situation in its customer industries. Over two thirds of the decision-makers with investment and purchasing plans want to invest in the next six months.
Visitors were primarily interested in machine vision components and applications. An increasing number of visitors (rise from 22 to 27 percent) expressed an interest in turnkey machine vision systems. These systems are primarily used for quality inspections, inspection and identification and robot guidance. This proves once again that it was right to establish an 'Integration Area' for this visitor target group where system suppliers can purposefully present their products and services and demonstrate their applications.
There were also many exciting applications at the VDMA Technology Days, which were organised for the first time. Under the motto "Research Meets Industry", eleven research institutions from several countries presented research projects with great application and market potential. "The innovations demonstrated in this event will lead to enormous improvements in production in many different industries or ensure far more comfort for people in their everyday lives, for example in the automotive sector", said Thomas Walter, Head of the Industry & Technology Competence Team at Messe Stuttgart, with conviction. The applications could hardly be more different, he added. The spectrum ranged from systems for automobility to applications in agriculture, more specifically for the cultivation of tomato seedlings.
The exhibitors appeared very pleased with the quality of visitors. Their offering almost matched the visitor interest one for one. The desired main visitor groups from the machine vision industry, mechanical engineering, the automotive and components supply industry, as well as medical technology, were reached.
Select exhibitor testimonials:
Andreas Schaarschmidt, Managing Director, SVS-VISTEK, Seefeld/Germany:
"Our aim was to find new customers internationally, establish new sales channels and present the innovative character of the company to customers using our new products. These expectations were satisfied. There are many new points of contact. It was great to meet many of our existing customers. The quality of visitors was in general very high. The increase in the professional competence and technological know-how of visitors was noticeable, thus allowing for a good exchange of information and ideas. VISION should remain THE leading trade fair. The quality of the exhibition is unique and must be retained."
Hendrik Schumann, Machine Vision Sales and Marketing Manager, Photonics Business Unit, POLYTEC, Waldbronn/ Germany: "We are very happy with the trade fair and achieved all our objectives. The expectations which we came with were fully met. We had many high-quality visitors at the stand, with whom intensive discussions were conducted. Investing in the trade fair fully paid off for us. We are going back home happy and confident."
Marc Wendisch, Special Account Sales/Marketing, Product Field Measuring Systems & Machine Vision, KEYENCE, Neu-Isenburg/Germany: "We are extremely satisfied with the trade fair. The quality and quantity of the visitors was superb. Approximately every second person came from outside Germany, including Israel, China, India and the USA. We are expecting good follow-up business based on the high quality of the visitors. We want to come back again."
Myriam Beraneck, Machine Vision Marketing Manager Europe, SONY, Paris/France: "The new hall gave VISION a new look. It looks like a completely new trade fair. We had many contacts and the quality of visitors was good. Many existing customers came to our stand, as well as new customers, primarily from Germany, Italy, France and India. For SONY, VISION is the most important trade fair worldwide - a must-attend event for us. "
Jennifer Yeung, Marketing Manager, Point Grey, Richmond/Canada: "VISION is and remains for us a big and important trade fair at which we continue to be able to acquire new customers from all over the world."
Kirk Petersen, Marketing Communications Director Teledyne DALSA, Waterloo/Canada: "We have been exhibiting at the Vision trade fair for over eight years. During that time the event has continued to mature and has expanded to meet the needs of our growing industry. In some important ways VISION contributed to that growth by bringing industry standard organisations together and adding the Medical Discovery Tour. We particularly welcome the great synergy the event creates between end-users, OEMs, integrators, and manufacturers. The trade fair provides an incredible opportunity to greet existing partners, build productive relationships and to engage new potential customers. VISION is simply an industry highlight every year!"
Andreas Hödl, AIT Austrian Institute of Technology, Safety & Security Department, Austria: "For AIT, VISION 2012 is the networking event of the year to be able to exchange information and ideas with the international machine vision community. With the relocation to Hall 1 this feeling of togetherness has been further enhanced."
Robert Zollner, Owner, Ing. Büro Robert Zollner, Software and System Consultancy, Eichenau/Germany: "VISION was a successful exhibition for us. We have been visiting VISION for 20 years. This was our first time here as an exhibitor. The Integration Area is an excellent idea thanks to the good positioning directly at the entrance area, among other things."
Alfred Faßbender, Managing Director, avs alfa vision systems GmbH & Co. KG, Lindlar/Germany: "Many of our customers came. But we also had numerous new contacts. Many visitors also travelled from outside Germany, from South Africa, Austria, Switzerland and other countries. We want to come back again to the next VISION."
Hiroshi Kiyama, Assistant Manager, Toshiba Teli Corporation, Tokyo/Japan: "The three-day trade fair at VISION was as usual very successful and busy for us."
Donato Montanari, General Manager, Datalogic, Bologna/Italy: "The VISION trade fair is a networking platform to attend and it offers really good visitor traffic."
Mr. Claudio Sedazzari, President, Opto Engineering, Mantova/Italy: "The VISION trade fair remains for us the main door opener to access the market of the machine vision industry and the best event to present new products."
Asked about the significance of VISION 92 percent of the exhibitors stated that the importance of the machine vision trade fair will increase further in the future, or at least will remain the same. The encouragement and reception from the visitors for VISION is still huge. Over half of the visitors, 52 percent, are convinced that VISION will become even more important for the industry in the future, the rest think the importance of the machine vision trade fair for the industry will at least remain at the same level. A total of 84 percent of visitors would definitely recommend VISION.
92 percent of visitors are now already looking forward to VISION 2013. They are also intending to come to Stuttgart for VISION 2013, which will be staged two months earlier from 24 to 26 September 2013.
Featured Product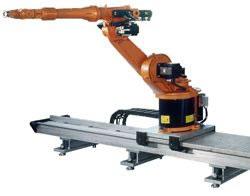 IPR Robotics offers a wide range of servo-driven 7th axis linear rails for industrial robots. These rails come in ten different sizes and are constructed from modular high strength extruded aluminum sections to handle payloads of 100 kg to 1600 kg or from steel to handle 2000 kg payloads. This variety of rail sizes allows each application to be sized correctly, controlling the space required and the price point. The drive train design of these rails utilizes helical gear-racks and is proven over 10 years to be repeatable and reliable, even in tough foundry applications.