Turnkey products provide tunable technology for metrology, surface inspection and high-performance digital video recording
Louisville, CO - Sept 16, 2013 - Boulder Imaging (BI) is excited to announce the release of new products showcasing transformational technology for metrology, surface detection and high-performance digital recording. These newest solutions are designed to reveal defects with speed and accuracy previously unachievable.

Easily integrated into virtually any laboratory or production environment, BI's latest product solutions help manufacturers improve quality and operating performance while reducing production time costs. The newly released products include the SCL Series, ML Series and updated Quazar.
Tunable Solutions Adapt with Customers' Needs
The new BI products are turnkey, with standard systems and design, but are tunable for customers' specific needs. This flexibility allows the systems to adjust to new customer requirements with high levels of complexity.
"At the core of all Boulder Imaging solutions is a software platform that powers the products to make intelligent decisions, leveraging highly configurable and adaptable inspection recipes," said Carlos Jorquera, BI Founder, Chief Executive Officer and Chief Technology Officer. "Users can 'tune and train' the inspection system as specialized needs evolve, avoiding costly development updates each time inspection criteria change. With each inspection, our systems deliver detailed reports and high definition video records for forensics, comparison and archiving."
Advanced Surface Inspection - The SCL Series
BI's SCL surface inspection series is the industry's first-ever, fully automated computer-based defect classification system for automotive and performance coatings. SCL systems are capable of processing coated or uncoated panels of various sizes from 4"x12" up to 24"x24".
The SCL series system automatically scans a coated panel and detects and classifies multiple defects and contaminants, ranging from craters, solvent pop and pigment seeds, to dirt and fiber. New anomalies are user-classified using BI's training based tool, which allows the expert user to train the system on new defect types. The SCL series system provides a permanent record of inspections that can be reviewed at any time and from anywhere within a customer's corporate network.
High Speed Metrology - The ML Series
Precision parts manufacturers need 100 percent accuracy in their quality inspections as microscopic defects or out-of-tolerance conditions can result in parts failure and loss of customer satisfaction. The ML Series is designed to accurately measure multiple high-precision, two-dimensional, flat parts in the blink of an eye.
"Contact measuring and laser based metrology systems are extremely slow compared to our ultra-high-speed imaging techniques," said Jorquera. "Historically, a wide variety of techniques have been used to inspect parts, such as digital microscopes, CMMs, and laser micrometers, requiring up to an hour to inspect a single part with manual reporting. With the ML Series, a part can be imaged and evaluated down to micron-level precision and reported for statistical process control (SPC) automatically in seconds - a fraction of the time previously achieved."
High-Performance Digital Recording - The Updated Quazar
BI's Quazar is a high-performance digital video recording, processing, and analysis solution that makes engineering and scientific observation, measurement, and review of critical events possible in real-time. Designed with a flexible and extensive plug-in architecture, Quazar supports a wide range of optional modules for image processing, as well as for machine vision applications.
The enhanced 64-bit Quazar system now supports high burst image acquisition from multiple cameras, multicast GigE Vision streaming and viewing, enhanced remote control API and simultaneous data acquisition and high speed data offload.
To learn more about these products and see them in action, please visit the new Boulder Imaging website at BoulderImaging.com.
About Boulder Imaging
Boulder Imaging provides vision inspection solutions for precision applications and has been successfully providing clients with custom R&D-intensive solutions for challenging inspection requirements since 1995. Our proprietary technology has provided fast, reliable, flexible, and accurate machine vision and high-performance digital video recording systems for hundreds of customers, including Fortune 500 companies, military and government organizations. For the past 18 years, our solutions have enabled customers to optimize product quality, drive down manufacturing costs, and measurably improve efficiency.
Featured Product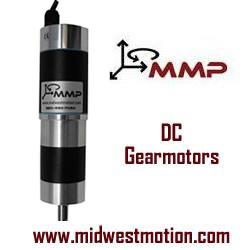 Midwest Motion Products, Inc. (MMP), is a well-established, healthy, & growing Family Owned Business, founded in 2001. MMP specializes in cost-effective standard DC Gearmotors, Motors, Controls, and ancillary equipment. Known world-wide for our "Lightning Fast" delivery capabilities, you can have a Standard Planetary or Right Angled DC Gearmotor BUILT and SHIPPED, often on the very same day you call. Offering Brushed and Brushless designs, with winding voltages ranging from 12 VDC to 120 VDC, we can deliver your "Robust & Reliable" samples within HOURS, instead of weeks, or even months.