New Festo cushioning technology - PPS - adapts itself automatically to changing loads and speeds.
Festo introduces the new DSBC family of ISO 15552 standard pneumatic cylinders, all of which feature the company's unique PPS self-adjusting cushioning capability. PPS ensures that cushioning into the end position is dynamic, but gentle, and requires no manual intervention. PPS eliminates the time consuming back and forth typically required during the adjustment stage of installing pneumatic cylinders.

The DSBC has the reliability and sturdiness of the popular ISO 15552 standard Festo cylinders DNC and DNCB and takes those actuators one step further with its unique self-adjusting cushioning capabilities. This self-adjusting ability ensures optimum cushioning performance at all times without the need for any manual intervention - even for changes in parameters such as friction and pressure, thus reducing wear and vibration.
A wide range of configuration options are available for the following: Seals, including chemical resistant; Scrapers, including those optimized for high dust areas, i.e. packaging;Safety, including rob clamp or mechanical end lock; Low friction or slow speed; Environments - low to high temperature conditions; and high moisture, including wash down.
A bumper has been integrated into the DSBC seal for both noise and vibration reduction. Sizes range from 1.3 to 4.9 inches (32 to 125 millimeters).
"The overall capabilities, wide range of options, and the fact it meets the ISO 15552 standard makes the DSBC ideal for those OEMs seeking the benefits of standardizing on a single family of pneumatic cylinders - shorter engineering time, smaller inventory, less training, and, in the case of DSBC, improved performance," said Frank Langro, director marketing / product management. "The Festo online product configurator makes ordering quick and efficient. In terms of the total package, no one in the pneumatics industry offers a family of cylinders comparable to the DSBC."
For more information on the innovative Festo DSBC ISO 15552 standard pneumatic cylinders with PPS cushioning, call Festo at 800-993-3786 and visit http://www.festo.com/us.
Featured Product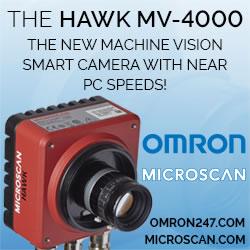 Awe-inspiring power and superior flexibility is sheathed within the contoured casing of the HAWK MV-4000. This smart camera builds upon the previous generation by quadrupling processing power and achieving real-time trigger response using an FPGA. Its state-of-the-art algorithms make it an excellent tool for any industry, whether the requirement be code reading, code verification, inspection, guidance, gauging or a combination of all four.