Adept Preferred Partners Deliver Innovative, Fully Integrated Primary Packaging Solutions for Protein, Produce, and Confectionary Sectors
PLEASANTON, Calif., September 19, 2013 Adept Technology, Inc. (Nasdaq:ADEP), a leading provider of intelligent robots and autonomous mobile solutions and services, today announced partnership agreements with an initial six preferred primary packaging system integrators. The Adept Preferred Food Partners include JMP Engineering of Canada and the United States, Adaptpack of Australia, Scansource of Denmark and Chile, Mar of Brazil, Euro-Cri of France, and Han Shin of Korea.

Selected for their advanced technical capabilities and knowledge base, these Adept partners define, configure, and deliver fully integrated solutions using Adept robots, software, and grippers to increase speed and efficiency on the packaging line.
"Our experience has convinced us that Adept's tools utilize the most efficient and innovative technology available," comments Vincent Capron, Managing Director for Euro-Cri of France. "For example, the new SoftPIC silicone SoftPIC grippers conform to shapes and provide a direct vacuum path to product, which allows for exceptionally gentle handling and reliable operation at very high speeds. The company's technology and tools provide the flexibility, dexterity, and speed food processors need to reduce costs and increase throughput while fully complying with both government and customers' internal sanitization guidelines."
"We believe that with our tools and our preferred packaging partners Adept offers the most effective and efficient food-focused hardware and software solutions available today," says Glenn Hewson, senior vice president of global marketing for Adept Technology, Inc. "Integrators who understand the intricacies of upstream and downstream packaging are key to delivering the perfect solution for food processors. Our partners have the depth of knowledge and experience to fully integrate and optimize customer efficiency and throughput in order to maximize ROI."
Adept will be exhibiting its SoftPIC grippers at Pack Expo in Las Vegas NV September 23 - 26 in the JMP Engineering booth, number S6998
Featured Product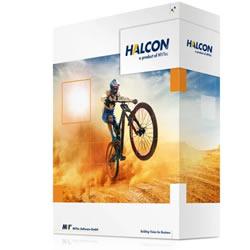 MVTec HALCON is the comprehensive standard software for machine vision with an integrated development environment that is used worldwide in all kind of industries. It enables cost savings and improved time to market. HALCON's flexible architecture facilitates rapid development of any kind of machine vision application. The software provides outstanding performance and a comprehensive support of multi-core platforms, special instruction sets like AVX2 and NEON, as well as GPU acceleration. The latest version HALCON 19.11 offers a wide range of new and improved machine vision functions. Particular emphasis was placed on the integration of further deep learning features. Now users benefit from massive simplifications for their applications, like faster inspection with anomaly detection, more transparency with the Grad-CAM heatmap and the support of ONNX format.