Pro Mach and Rockwell Automation demonstrate packaging line-integration advances in Las Vegas, Sept. 23 to 25
MILWAUKEE, Sept. 19, 2013 - Attendees at this year's PACK EXPO 2013 can learn firsthand about packaging line integration from Pro Mach, a leading global provider of integrated packaging solutions for food, beverage, household goods and pharmaceutical manufacturers.

Pro Mach will demonstrate a new line-integration technology called RAPID Line Integration from Rockwell Automation in booth C1920. RAPID uses the Packaging Machine Language (PackML) to enable easier linkage between machinery across an entire packaging operation. This allows plant managers to monitor machines in a connected and standardized format, giving them visibility into the throughput of each machine and a centralized view of overall line performance.
"In many facilities, packaging machines, such as fillers, labelers, case erectors, case packers, wrappers and palletizers, are acquired from different OEMs," said Mike Wagner, manager, Global Packaging Business at Rockwell Automation. "This approach traditionally makes communication between machines complex, requiring customized integration work and hard coding. Line-integration technologies like RAPID help reduce startup time and integration costs."
RAPID provides a flexible approach to integrating packaging machines and lines by allowing a single location to set up, control and analyze the performance of an entire line. Pro Mach customers benefit from a configurable line-control solution that provides instantaneous overall equipment effectiveness (OEE) reports on a packaging line and actionable error reporting, while saving time during installation and startup.
"For many customers, installation and startup issues negatively impact time-to-market for new products," said John Eklund, vice president of marketing at Pro Mach. "Whether it's frozen packaged dinners, diapers or new medication, being the first to market with a new product significantly impacts market share and profits over that product's life. Line-integration solutions allow manufacturers to save time during startup, so they can meet production targets and focus on optimizing line performance."
Unlike legacy systems that require operators to stop the line for each changeover, line-integration systems allow operators to make seamless changes - even those that impact the line's mechanical or electrical makeup, such as changeover to a newly redesigned package.
RAPID also helps lower the total cost of deploying and operating equipment because it uses a platform that easily interfaces with performance-management systems. "RAPID can be implemented on new or existing lines that use varying control platforms," Eklund said. "This allows us to standardize the integration process for our customers, which in turn saves them time and costs."
Pro Mach is a combination of many market-leading brands in primary and secondary packaging, end-of-line packaging, material handling, and identification and tracking. The company builds standalone equipment and integrated systems that combine best-of-breed solutions in each area of packaging. Its customer base is a diverse mix of large and small manufacturers, including more than 80 percent of the Fortune 500 food, beverage and consumer product companies.
"Our customers are facing a number of challenges as they try to meet growing consumer demands to accommodate ever-changing health, taste and cost preferences, and remain profitable," Eklund said. "Our strategic partnership with Rockwell Automation allows us to stay ahead of the latest technology and deliver innovative solutions like RAPID to help manufacturers keep up with changing demands and perform at their best."
About Rockwell Automation
Rockwell Automation Inc. (NYSE: ROK), the world's largest company dedicated to industrial automation and information, makes its customers more productive and the world more sustainable. Headquartered in Milwaukee, Wis., Rockwell Automation employs over 22,000 people serving customers in more than 80 countries.
About Pro Mach
Pro Mach is a leading provider of integrated packaging products and solutions for food, beverage, household goods, pharmaceutical, and other diverse consumer and industrial companies. Through multiple business units and related brands, Pro Mach provides equipment, installation, training, parts and service in primary and secondary packaging, end-of-line packaging, material handling, and identification and tracking.
Pro Mach has a diverse customer base, from Fortune 500 companies to smaller, privately held businesses worldwide, which depend on reliable, flexible, technologically advanced packaging equipment and integrated solution sets. Pro Mach is headquartered near Cincinnati, Ohio with manufacturing facilities and offices throughout the United States and Canada.
Featured Product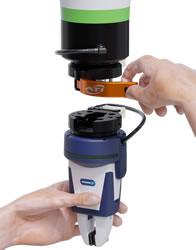 Simpler, stronger, and more precise. ATI Industrial Automation has developed a series of Manual Tool Changers that provides a cost-effective solution for quickly changing tools by hand. They feature a unique design that combines high strength, excellent repeatability, and a patent-pending screw-cam locking mechanism with multiple fail-safe features, which resists vibration and prevents loosening. These robust and compact Manual Tool Changers can handle payloads up to 80 pounds (36 kg) and pass pneumatics and electrical signals.