New series offers high performance in compact package for power conversion applications
Standex-Meder Electronics, a manufacturer of precise, reliable, and long-lasting miniature switches, sensors and relays, announces the SX41 Series of planar transformers for 500W-2KW applications. Available in standard or custom designs, the SX41 delivers high performance for power conversion applications in the welding, automotive, telecommunications, renewable energy, and aerospace industries.

Compact yet powerful, these transformers feature an enhanced core design to promote volumetric efficiency and thermal performance. A large core surface promotes heat transfer while minimizing AC resistance and proximity Cu loss, and an optimized core cross section lowers core loss. As a result, SX41 planar transformers can offer better power density and performance when compared to equivalent wire wound transformer designs.
The SX41 can handle up to 2KW of power, and like all Standex-Meder planar transformers, can be tailored to fit a customer's specific needs. With a worldwide network of manufacturing facilities, including TS16949 and AS9100 certified and ITAR registered sites, Standex-Meder is well-equipped to provide custom designs to meet any specialty application.
About Standex-Meder Electronics
Standex-Meder Electronics is a worldwide market leader in the design, development and manufacture of standard and custom electro-magnetic components, including magnetics products and reed switch-based solutions.
Our magnetic offerings include planar, Rogowski, current, and low- and high-frequency transformers and inductors. Our reed switch-based solutions include Meder, Standex and OKI brand reed switches, as well as a complete portfolio of reed relays, and a comprehensive array of fluid level, proximity, motion, water flow, HVAC condensate, hydraulic pressure differential, capacitive, conductive and inductive sensors.
We offer engineered product solutions for a broad spectrum of product applications in the automotive, medical, test and measurement, military and aerospace, as well as appliance and general industrial markets.
Standex-Meder Electronics has a commitment to absolute customer satisfaction and customer-driven innovation, with a global organization that offers sales support, engineering capabilities, and technical resources worldwide.
Headquartered in Cincinnati, Ohio, USA, Standex-Meder Electronics has eight manufacturing facilities in six countries, located in the United States, Germany, China, Mexico, the United Kingdom, and Canada.
For more information on Standex-Meder Electronics, please visit us on the web at www.standexmeder.com.
Featured Product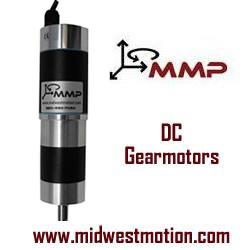 Midwest Motion Products, Inc. (MMP), is a well-established, healthy, & growing Family Owned Business, founded in 2001. MMP specializes in cost-effective standard DC Gearmotors, Motors, Controls, and ancillary equipment. Known world-wide for our "Lightning Fast" delivery capabilities, you can have a Standard Planetary or Right Angled DC Gearmotor BUILT and SHIPPED, often on the very same day you call. Offering Brushed and Brushless designs, with winding voltages ranging from 12 VDC to 120 VDC, we can deliver your "Robust & Reliable" samples within HOURS, instead of weeks, or even months.