Systems Help Food and Beverage Companies Meet New Government Safety and Sanitation Mandates, Lower Labor Costs and Future-Proof Packaging Lines
Adept Technology, Inc. (Nasdaq:ADEP), a leading provider of intelligent robots and autonomous mobile solutions and services, today announced the availability of primary and secondary food packaging robots and peripherals that are designed specifically to help food processing companies to meet new government safety and sanitation mandates, lower plant operating costs, decrease waste and future-proof packaging lines.

Robotic automation is a proven solution for both primary and secondary food-packaging lines, which typically require rapid, repetitive, labor-intensive product handling. A primary or secondary packaging line that combines Adept's robotic components, application software, and game-changing SoftPIC gripper/grasper technology can yield significant productivity gains while improving safety and sanitary conditions.
"Food processors are looking to robotic automation with integrated vision and conveyor control to provide the speed and efficiency of hard automation but with flexibility for quick changeover between products," states Glenn Hewson, Adept Senior Vice President of Marketing. Our game-changing SoftPIC grippers are designed specifically for primary packaging of raw protein and fruits and vegetables, and when combined with Adept's industry-leading vision guidance and conveyor-tracking enable a variety of products to be packaged on the same line."
Hewson further adds "Robotic automation can also help processors dramatically lower distribution labor costs by packing mixed-product cases for specific store orders on the secondary packaging line and eliminating repacking at distribution warehouses."
Adept's differentiating food packaging innovations include the Adept Quattro™ s650HS, the world's only USDA-approved robot; PackXpert™ a powerful software solution for the rapid development of robotic packaging applications; SoftPIC™ advanced gripping/grasping technology that supports handling different products in a variety of packaging patterns from a single production line; and industry-leading integrated vision and conveyor tracking, for applications where robots must package products that are presented randomly on a moving conveyor belt.
Adept will be showing its SoftPIC grippers and graspers at Pack Expo Las Vegas, September 23 - 26 exclusively in the JMP Engineering booth S6998.
About Adept Technology, Inc.
Adept is a global, leading provider of intelligent robots and autonomous mobile solutions and services that enable customers to achieve precision, speed, quality and productivity in their assembly, handling, packaging, testing, and logistical processes. With a comprehensive portfolio of high-performance motion controllers, application development software, vision-guidance technology and high-reliability robot mechanisms with autonomous capabilities, Adept provides specialized, cost-effective robotics systems and services to high-growth markets including Medical, Electronics, Food and Semiconductor; as well as to traditional industrial markets including Machine Tool Automation and Automotive Components. More information is available at www.adept.com.
Featured Product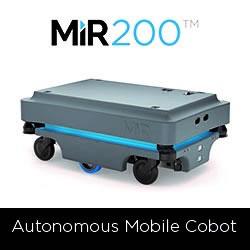 MiR200 is a safe, cost-effective mobile robot that automates your internal transportation. The robot optimizes workflows, freeing staff resources so you can increase productivity and reduce costs. MiR200 safely maneuvers around people and obstacles, through doorways and in and out of lifts. You can download CAD files of the building directly to the robot, or program it with the simple, web-based interface that requires no prior programming experience. With its fast implementation, the robots offers a fast ROI, with payback in as little as a year.