SpotterRF rolls out new autonomous NetworkedIO, C550 radar and Shield Initiative aimed at providing turn-key camera cueing systems.
Chicago, IL September 23, 2013

SpotterRF today announced the roll-out of its Shield Initiative to provide rapid radar camera-cueing capabilities for a wide range of perimeter security and commercial users through its reseller network. In support of the Shield Initiative, the company is introducing new versions of the NetworkedIO integration platform and the new C550 compact ground radar at this year's show (Booth# 2533).
"Customers and integrators tell us they want turn-key solutions with camera cueing to reduce overall system cost and to speed project turnaround," states SpotterRF CEO Logan Harris. "Auto targeting and cueing is desirable in part because studies reveal that an individual can effectively view the video feeds from security cameras for only an average of 20 minutes. Bringing this capability in a turnkey, affordable package is what the Spotter Shield Initiative is all about."
As stated by FLIR, a leading manufacturer of thermal imaging cameras, "Traditional video surveillance consists of a large number of cameras feeding back to a simple "command center". A more effective and strategic solution combines ground-based radars, pan and tilt imagers (visible CCD and thermal) and software technology to automate many of the critical challenges that the security guard faces. This solution will detect moving objects and automatically slew (rotate) the camera to the place the object in its field of view. In addition, the camera will track the object as it moves across the area."
Because of the difficulties and expense of Ground Surveillance Radar this slew-to-cue capability has been limited in use to only the highest level of security systems. With the introduction of its Compact Surveillance Radar and the Shield Initiative, SpotterRF and its resellers aim to bring this high-end targeting and tracking capability to a wide range of applications including oil wells, oil drilling platforms, substations, data centers, automobile dealerships, construction sites, luxury estates and more.
Under the Spotter Shield Initiative, SpotterRF is promoting, with its resellers, turnkey auto-cueing security systems that include Compact Surveillance Radar. Systems available under the Shield Initiative are pre-integrated, pre-assembled, pre-tested and ready to ship within a few weeks from the reseller. Making these systems accessible to a wide range of users enables sensor station installation to be done in hours instead of days required by other alternatives.
NetworkedIO is the glue, both hardware and software, that connects SpotterRF radars to other devices like Video Management Systems (VMS), cameras, email and alarms. NetworkedIO automates the job of securing a perimeter by allowing an operator using a web browser to draw alert zones or geo-fences, define alert filters based on track information from the radar and define actions to take. New capabilities include auto-panning of cameras to the intrusion location via Pelco-D or Milestone, sending an email and turning on an alarm.
With an embedded NetworkedIO server installed at a sensor station a robotic threat detection and response system is created. From the perspective of the intruder, once they cross into a protected area the system performs as if a human is tracking their every move, and the threat is immediately addressed even if communications are down to the operation center.
Furthering the accessibility of this technology for all security professionals across the world, SpotterRF is also releasing the C550, the newest commercial compact radar model in the SpotterRF lineup. It has neared the range and area coverage of the military M600C unit but is not ITAR restricted for export and is less expensive. The C550 reduces the barrier to entry for projects that involve foreign use and also require wider area coverage than the C40 - a 2012 ASIS Accolades winner.
The C550 supports the same API as the C40, is about the size of the M600C and takes only 10 Watts of power. Range on a walking person is 850m with the coverage area of 140 acres for a walker. Vehicles are detected out to 1.5km. Temperature range is -30 C to +65 C, and can operate at even colder temperatures as long it has been turned on while the Spotter was above -30 C.
Applications for SpotterRF C550 Compact Surveillance Radar include border protection, dams, bridges, oil platforms, power plants, small airports and port security. Spotter radar units come in five sizes, weighs as little as 1.5 lbs. each, use less energy than a light bulb (approx. 8W each), and can communicate with Google Earth, Milestone, AFT from SAIC and other Video Management System (VMS) software. Training takes less than 30 minutes in the field.
About SpotterRF
SpotterRF provides the world's most advanced Compact Surveillance Radar (CSR) system for perimeter security and force protection. Made in the USA and engineered for extreme conditions, SpotterRF technology is the most compact, lightweight, energy efficient, and cost-effective radar for elite warfighters and critical infrastructure requirements. For a data sheet, visit http://spotterrf.com/commercial-products.html.
Featured Product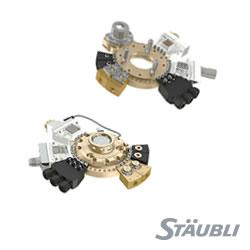 TX2 robots: redefining performance by offering collaborative safety and high performance in a single machine. These pioneering robots can be used in all areas, including sensitive and restrictive environments, thanks to their unique features. Safety functions are easy and inexpensive to implement. They allow a higher level of interactions between robots and human operators, while still guaranteeing protection of your people, production and investment.