The VANTAGE Utilizes Advanced Technologies to Provide Superior Performance for Simple to Complex Pipetting Needs
RENO, Nev., Sept. 24, 2013 -- Hamilton Robotics introduces the Hamilton VANTAGE™ for immediate release. The highly flexible, multi-purpose pipetting platform features a completely new, state-of-the-art linear motor design and contact-free NanoPulse™ pipetting technology covering a wide volume range (100 nL - 1 mL). This space-efficient and affordable liquid handler enables users to prepare samples with the utmost precision and traceability, helping to ensure downstream data reliability.

"The Hamilton VANTAGE caters to all market needs, from a low-cost pipettor to the most complex integrated system, and is field upgradable to cover the entire usability pyramid," said Jose Carle, Vice President of Hamilton Robotics.
The VANTAGE's expandable design makes it a great instrument for labs with growing needs or new applications. Labs requiring increased walk-away time, high throughputs or large capacities can upgrade their bench-top VANTAGE pipettor at any time with a Logistics Cabinet, which offers innovative tip and plate shuttling from below the pipetting deck and customizable, smart waste solutions. A telescopic, vertical Track Gripper can also be added to transport samples from below- or off-deck third-party devices such as thermal cyclers, centrifuges, washers, readers, sealers, peelers and incubators.
"A single vertically integrated system can easily replace four to six other pipetting robots and offers much more functionality than competitor's platforms," said Alvaro Cuevas, VANTAGE Senior Product Manager. "Overall, this saves customers money and enables them to build process redundancy with a second robot at the same price point."
In addition to the hardware, INSTINCT V software brings ease of use to the next level with automation intelligence, making VANTAGE accessible to varying user levels. The graphical Assay Editor allows a user to program in a "lab person's language" while the XSL Editor can be used for more complex programming tasks. INSTINCT V's resource-optimized, dynamic Scheduler allows users to run the same or different assays in parallel on an instrument while other users connect remotely to write methods for new assays. INSTINCT V also provides remote system monitoring via smart phones, tablets or any web-enabled device, which increases walk-away time for overnight and weekend runs.
Visit http://www.hamiltonrobotics.com/hamilton-robotics/vantage/ to learn more about the Hamilton VANTAGE and how it brings integrated simplicity to laboratory automation.
About Hamilton Robotics
Hamilton Company is a global leader in the design and manufacture of liquid handling, process measurement, robotics and storage solutions, serving customers in academic and private research laboratories, pharmaceutical and clinical diagnostic companies and government institutions. Hamilton maintains headquarters in Reno, Nevada, Franklin, Massachusetts and Bonaduz, Switzerland, along with subsidiary offices throughout the world. For over 60 years, the company has maintained its commitment to building precision and quality into every product. Hamilton is a privately held company with ISO 9001 certification. For more information, please visit www.hamiltonrobotics.com.
Featured Product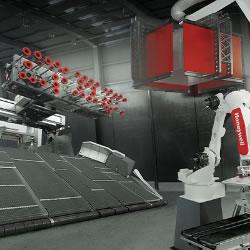 Challenges on the loading dock are characteristic of greater pressures from the rise of e-commerce. Loading and unloading freight from trailers, trucks and shipping containers are arduous, repetitive tasks plagued by high turnover. Even with regularly available staff, manually unloading freight and the constant lifting and twisting results in fatigue and inconsistent, declining productivity. Robotics capable of fully automating unloading tasks bring a new paradigm to the dock. High performance and flexibility push unloading from a labor-heavy, manual chore to an automated, refined process. High-performing DC workers can take more desirable positions, with relief from unpleasant work conditions. Management gets to replace uncertainty and staffing challenges with a reliable, automated process, with data to fuel continuous improvement.