Baxter 2.0 Software Release Enables Baxter Robot to Perform New Set of Manufacturing and Production Applications
BOSTON, MA--(Sep 23, 2013) - Rethink Robotics today announced a game-changing update to the software of the Company's flagship interactive production robot, Baxter. The 2.0 software will introduce a new set of applications, making Baxter an even more effective productivity tool for American manufacturers. Existing customers will be able to easily download the new software and upgrade their Baxter robot.

Baxter is now able to pick and place parts at any axis, allowing the robot to perform a broad array of new tasks, such as picking objects off a shelf, or loading machines in a horizontal motion. The 2.0 software also allows the customer to define waypoints with increased accuracy; users will be able to define the exact trajectory that they want Baxter's arms to follow simply by moving them. For example, the robot can be taught where to move its arms in and out of a machine. In addition, the 2.0 software enables customers to train Baxter to hold its arms in space for a predetermined amount of time, or until a signal indicates they can begin moving again. This makes Baxter useful for holding parts in front of scanners, inspection cameras or painting stations, and for working more interactively with other machines (i.e., moving its hand out of a machine while it cycles).
In addition to its expanded task capabilities, Baxter with 2.0 software also features a number of overall performance improvements. Baxter can now operate at a significantly faster pace, pick and place objects with increased consistency and move more fluidly between points. With improvements to its integrated vision, Baxter now has the ability to detect and distinguish between a broader range of part geometries, further broadening its capacity for variably shaped objects.
"Over the past year, our customers have seen increased productivity and efficiency with the help of Baxter," said Scott Eckert, president and CEO of Rethink Robotics. "While Baxter's 2.0 software will greatly expand the possibilities for both new and existing customers, this release is just the beginning. Baxter is a unique, upgradable software platform, and the robot's capabilities will continue to evolve to help manufacturers increase their overall efficiency, and help them realize an even greater return on their investment over time."
"Baxter's ability to expand its capabilities make it a unique and invaluable platform," said Jeremiah Miele, Project Engineer for Genco, a leading third party logistics (3PL) provider. "We've been running Baxter for a while, and with the 2.0 software upgrade we're able to unlock new applications for our Baxter robots throughout the facility that weren't possible before."
About Rethink Robotics
Rethink Robotics, Inc. develops intelligent, affordable, user-friendly robots that can operate safely next to people in a wide range of manufacturing, production and R&D environments. Rethink Robotics' Baxter is the world's first interactive production robot, making manufacturers of all sizes more efficient, their workers more productive, and helping to keep jobs from migrating to low-cost regions. The Baxter Research Robot is a humanoid robot platform with integrated sensors and an open software development kit allowing academic and corporate researchers to create custom applications. Based in the Innovation District of Boston, Massachusetts, the company is funded by Charles River Ventures, Highland Capital Partners, Sigma Partners, Draper Fisher Jurvetson and Bezos Expeditions, the personal investment company of Jeff Bezos. For more information about Rethink Robotics, please visit www.rethinkrobotics.com or follow us on Twitter @rethinkrobotics.
Featured Product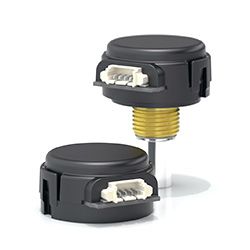 High resolution. Limited space. Not a problem for our latest miniature encoders that provides precise feedback and is easy to install within smaller-sized applications. Now available in 400 and 500 CPRs. Coming in at about the size of a nickel, we've added our proprietary Opto-ASIC sensor technology and improved quadrature for even greater motion control. Product Features: 10 resolutions up to 360 CPR, plus new 400 and 500 CPR resolution; 288 configurations available, including single and differential output; Compact form factor • 0.866 inch (in) / 22.00 millimeter (mm) package outside diameter • 0.446 in / 11.33 mm package height • Fits NEMA 8, 11, 14 and 17 motors; Simple and efficient assembly process • Four-piece construction • Push-on hub disk design, patent pending; 100 kilohertz frequency response; Shafted version up to 0.25 in / 6.25 mm diameter.