BOZEN, Italy--Health Robotics announced that University of Rochester Medical Center (URMC) awarded the company a contract to become the largest implementation of Sterile Compounding Automation in the world, including 5 Robots [4 i.v.STATIONs and 1 i.v.STATION ONCO], and complemented by 23 i.v.SOFT workflow applications.

Curtis E. Haas, Director of Pharmacy at University of Rochester Medical Center stated: "Providers throughout the URMC network rely on our pharmacy to provide safe, sterile compounded IV medications for busy inpatient and outpatient services. That's been a challenge with the reduced opportunity and safety concerns related to outsourcing to compounding pharmacies. Using Health Robotics' advanced technology and workflow management, we'll be able to handle all sterile compounding in-house, while managing the volume efficiently and safely."
Gaspar DeViedma, Health Robotics' Executive Vice President and Board Member stated: "I couldn't agree more with Mr. Haas comments on the need for Sterile Compounding Insourcing at hospital pharmacies, especially in light of FDA's 2013 issuance of Forms 483 to fifty outsourced compounding pharmacies for quality- related problems, and the 2012 tragic meningitis events at NECC. It is indeed an honor for Health Robotics to partner with University of Rochester Medical Center in this new and exciting installation for its world leading IV Automation technology, winning this business from our key competitors. While Health Robotics has extensive experience in prior installations in the United States of America (Brigham & Women's Hospital) and Turkey (Antalya University Hospital) with 4 Robots each, this contract award certainly tops all prior Health Robotics' business globally."
About the University of Rochester Medical Center
The University of Rochester Medical Center (URMC) is one of the nation's top academic medical centers and is upstate New York's premier health care delivery network. It is anchored by the 800-bed, Strong Memorial Hospital-the University of Rochester's primary teaching affiliate-and also includes Highland Hospital, Golisano Children's Hospital at Strong, Thompson Health, Eastman Dental Center, senior living facilities and Visiting Nurse Service, the region's largest licensed home health agency. Several of Strong Memorial Hospital's specialty programs consistently rank in "America's Best Hospitals" in U.S. News & World Report magazine. In addition, Strong Memorial has earned the National Research Corporation's "Consumer Choice Award" all eighteen years since the award's inception.
About Health Robotics
Founded in 2006 and now reaching 80% total IV Robots market share in the world [including over 90% the Oncology Robots global market], Health Robotics is the undisputed leading supplier of life-critical intravenous medication robots, providing almost 500 hospital installations in 5 continents with the only fully-integrated Robotics-based technology, IV Workflow, and manual compounding software automation solutions. Health Robotics' second generation products [i.v.STATION, i.v.SOFT, and i.v.STATION ONCO] have been found [through scientific and peer- reviewed studies 1, 2, 3] to greatly contribute to ease hospitals' growing pressures to improve patient safety1, increase throughput, and contain costs1, 3. Through the effective and efficient production of sterile, accurate, tamper-evident and ready-to- administer IVs, Health Robotics' medical devices and integrated workflow solutions help hospitals eliminate life-threatening drug1 and diluent1 exchange errors, improve drug potency2, decrease other medical mistakes and sterility risks, work more efficiently1, 3, reduce waste and controlled substances' diversion, reduce pharmacy technician upper-limb injuries3, and diminish the gap between rising patient volume/acuity and scarce nursing and pharmacy staff. For more information, please visit: http://www.health-robotics.com
1 Impact of Robotic Antineoplastic Preparation on Safety, Workflow, Costs. Seger, Churchill, Keohane, Belisle, Wong, Sylvester, Chesnick, Burdick, Wien, Cotugno, Bates, and Rothschild. Brigham & Women's Hospital, Massachusetts College of Pharmacy, and Harvard Medical School. Journal of Oncology Practice, Nov. 2012, Volume 8, number 6.
2 Validation of an automated method for compounding monoclonal antibody patient doses: case studies of Avastin®, Remicade®, and Herceptin®. Peters, Capelle, Arvinte, van de Garde. St. Antonius Hospital. mAbs January 2013, Volume 5, Issue 1.
3 Comparing the upper limb disorder risks associated with manual and automated cytotoxic compounding. McLeod, Zochowska, Leonard, Crow, Jacklin, Dean, Franklin. Imperial College Healthcare NHS Trust. European Journal of Hospital Pharmacy April 2012.
Featured Product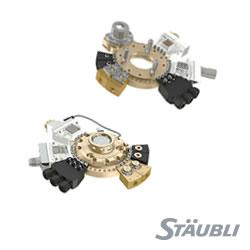 TX2 robots: redefining performance by offering collaborative safety and high performance in a single machine. These pioneering robots can be used in all areas, including sensitive and restrictive environments, thanks to their unique features. Safety functions are easy and inexpensive to implement. They allow a higher level of interactions between robots and human operators, while still guaranteeing protection of your people, production and investment.