2013-09-23 - With a combination of tenacious experience and engineering, JLS Automation is out to change the food packaging industry-one ABB robot at a time.
Across the globe the food and beverage industry is undergoing tremendous change at the hands of robotic technology. Most industry analysts and suppliers estimate that only a fraction of operations that could benefit greatly from robotic automation are currently reaping its rewards in the form of reduced waste, higher throughput, speedy changeover times, flexibility, and improved product quality.

Over the last decade, JLS Automation has become one of the go-to companies for helping primary food packaging customers make the switch to robotics. Started in 1955, JLS was the brainchild of Joseph L. Souser, father of current President and CEO Craig Souser. Since then, the company has developed a dynamic background and gone through several generational changes including serving the machine tools segment, the printing and newspaper industry, and even corrugated box machines. Ultimately the company decided it needed to chase a market that showed solid growth potential and wouldn't go away like so many of these industries have.
"We're very bullish on where the food industry is today and where it could go," says Craig Souser. "When we made the switch we felt the food industry was very stable, and that has proven to be true. Food, in general, has also not had a significant amount of automation to this point. But modern packaging equipment is so fast in nature that people can't keep up with it and robots are able to allow the next level of technology to be implemented."
Making the switch to robotics
Starting about 15 years ago JLS began building their own gantry robotic systems, but as prices for industrial robots were coming down and new technologies pioneered by ABB emerged on the market, JLS saw an opportunity they couldn't pass up: signing on to integrate ABB's FlexPicker "delta-style" high speed robotic pickers.
"Robotics didn't exist in 1955 when we started, but when the FlexPicker came along in the early 2000s we got on board very quickly-and we've been a FlexPicker house ever since," says Souser.
"Originally we saw primary packaging as the only segment that the FlexPicker was going to work in. However, today we're doing a lot of work in the secondary packaging segment and have developed some solutions for that market. As technologies have changed and our experience has grown we've been able to use robots for applications that we never imagined early on."
Designing robotic automation solutions for the modern food packaging industry can be very tricky. Consumer demands are changing all the time, and coupled with that packagers have to be able to modify their product strategies very quickly-sometimes on a minute-by-minute basis.
"Primary product is very challenging to work with," says Souser. "These types of products change state quickly in their environment, so it's important for us to understand those dynamics and listen to the customer actively. We had to not only develop good tooling-which is fundamental-but we had to work on the flow of products too. We often talk about FlexPickers being like airplanes: if they're not moving they're not creating any value, so we need to keep the robots productive and cycling at very high speeds."
Another major issue that is unique to the food industry is sanitation and ensuring the highest levels of cleanliness on the production and packaging lines. When JLS's equipment is coupled with ABB's FlexPicker robots, those exacting sanitation standards can be easily met.
"Over time we've had to become very skilled in high sanitary design," says Souser. "Virtually everything we do is stainless and almost everything we do is capable of being in a wash down environment. We have different levels of sanitary design, but they're all fundamentally meant to get wet, and usually do."
Tooling solutions are key
Because primary packaged food products are so variable in the way they come off the line to be packaged, the robot's end-of-arm-tooling (EOAT) needs to work with that product efficiently. It also needs to be gentle yet precise and reliable. It doesn't matter how fast the robot is working and packing, without being able to pick up the product it's all pointless.
"Our greatest strength is in the end of arm tooling for the robots," says Craig Hafner, Chief Technology Officer for JLS. "We operate in a lot of high sanitation environments and there are a lot of challenging products that we handle in the primary packaging of food, so we have to have a very efficient system of handling products at the high speed of the 'delta' robots."
When you couple the tricky nature of handling food products with the changing demands of the modern industry, EOAT is really the keystone to the entire operation. "We've developed a lot of tooling that is forgiving in that sense," says Souser. "We have a number of patents on tools that handle everything from tortillas to sausage to solar cells to all types of different food items that are, by nature, non-uniform."
In particular, JLS has come to be known for one EOAT technology they have perfected: vacuum on board (VOB). "VOB is something we've been developing and evolving for about seven years," says Hafner. "It's a very simple technology with no moving parts unlike blower systems, which can be relatively cumbersome and bulky. Not only that, VOB has given us increasingly improved performance while at the same time providing very sanitary options to our customers."
"One of the things we incorporate is what we call a 'design for agility' philosophy," says Souser. "We feel the term 'flexibility' has been beaten to death and overused. A lot of equipment is flexible but that merely means it can be changed over to run a different item. What we do with agility is take it to the next level and make it very quick to change over with maybe no change parts."
Standardization driving market penetration
With only a small fraction of potential customers served in the food industry, the race is on to figure out how to meet the needs of the vast majority of customers who have been holding out on the switch to robotic automation for one reason or another. Whether it's due to the perceived complexity of robotic systems or worries about investment costs, maintenance and training of operators, there are clearly many companies that are hesitant to make the change. With their decade of hard fought experience, JLS has developed standardized solutions aimed at greatly reducing many of these perceived issues.
"We've been evolving some of our designs over the years so that we can reuse a lot of the same engineering," says Souser. "That has a benefit not only to us but to the customer as well. It's helped us keep our costs constrained and reduce them in some cases, but more importantly it has allowed us to execute some of the projects more quickly. Projects that used to take 6-7 months now can take 3-4 months because we've got standard equipment that we can release for manufacture or build for pre-state sub-assemblies."
On top of this, switching from custom project-by-project solutions to standard ones provides another significant benefit. "By offering more standardized solutions instead of purely custom solutions we are able to deliver systems that have already been proven without having the challenges of unique testing on every application," says Hafner. "For both our customers and ourselves, the standardization means lower risk."
Using the imagery of birds of prey snatching fish from rivers with great speed and agility, JLS has developed the "Talon" system of picking. The line of machinery includes the Osprey and Heron systems, both of which are designed to meet specific needs of the primary food packaging consumer. All of these systems use the ABB IRB 360 FlexPicker robots, but the Talon is generally meant for more customized large factory operations, while the Osprey and Heron are compact and standardized platforms.
Partnering with ABB means hitting the ground running
ABB was the first company to commercialize the delta-style high speed picking robot, and is still the dominant player in this regard. It is this long history and experience with the FlexPicker robots that JLS values.
"We're very proud of the relationship we have with ABB," says Souser. "What we've found is that despite the fact that they're a huge global company they do listen to their customers." "ABB's wide range of robotic solutions and global support is unmatched," says Hafner. "This allows us to expand into areas beyond certain defined technology solutions that some providers may offer. It also allows us to expand into different markets without fear that we won't have support from ABB. And in terms of getting into markets we may not have firsthand knowledge of, we've been able to take advantage of ABB's knowledge on applications and that really enabled us to jump start our abilities with FlexPicker integration."
Over time ABB's FlexPicker product line has evolved to incorporate customer input, and JLS says they've experienced that directly. "We've worked with ABB now for over ten years and we've seen a number of improvements and evolution," says Hafner. "Initially we were using only packaged controllers with the IRB 340 robot, and since then ABB has developed the IRB 360 which has allowed us to increase throughput typically by ten percent as well as allowed us to increase payloads. Most recently ABB has released an 8 kg FlexPicker which is a huge benefit to us, particularly in case packaging applications where the heavy duty construction coupled with the delta advantages is really going to be a benefit to us and our customers."
"The term partner is overused, but in the case of ABB they've demonstrated to us that they have been a partner and they do know what that means," says Souser. "Even when there has been a bump in the road or a problem, ABB has been there and worked with us and through team work we've solved every one of them time and again."
Future growth
When it comes to predicting the future, there is one thing that is assured: we are on the cusp of a robotics explosion in the food and beverage industry. With only a small portion of potential customers served, it mostly comes down to outreach and customer education.
"We have delivered a lot of systems to customers who have never had a robot in their building before," says Hafner. "They're always nervous about the integration and what it's going to be like to have to support a robot. Our common response is that the robot will be the most reliable thing in the building. Over time there has been a lot of engineering effort to make them robust and reliable and we're able to take advantage of that to deliver a system that operates flawlessly day in and day out."
Many of JLS's successful installations come down to the fact that the current manual operations were limited by human capabilities, where the speed or product handling requirements are physically impossible for humans to meet. A robot, once it's configured correctly, is capable of repeatable, high quality performance. In some cases JLS says they've seen up to a fifty percent improvement in throughput because of the implementation of robots.
The food industry-and sanitary environments in particular-are becoming more and more demanding with sanitation concerns becoming tougher in USDA facilities and even in the non-USDA facilities. Robotics offer a nice advantage where concerns about human contamination of product can be eliminated.
"Robots today give you the best bang for the buck when you're talking about highly capable performance and a low cost," says Hafner. "You can't touch that with any sort of small scale custom machine. At the same time, the robots introduce a lot of flexibility which can handle changes in the process that might not even be foreseen at the time the system is commissioned."
"If we're going to increase penetration with our customers we need to increase their confidence that our systems can deliver and meet their needs," says Hafner. "We have a lot of customers that are still scared of robots and by offering standardized solutions we can eliminate that fear and deliver a proven solution into a new environment."
Featured Product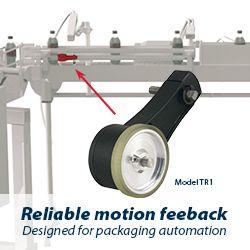 EPC is excited to announce our NEW online 3D Configurator. This new tool makes it even easier to configure EPC's products exactly how you need them for your application. The 3D Configurator interface is intuitive and works in any web browser for both desktop and mobile. It'll only take you a moment to learn your way around the program. Careful, though: it's so fun to play with, you may spend a whole afternoon on it!