Please accept our invitation to peruse www.roboticvisiontech.com.
We launched our new web site, www.roboticvisiontech.com and want to introduce ourselves: We're Robotic VISION Technologies (RVT), LLC. We develop vision software for industrial robots that allow them to "see, think and do." RVT works with major companies including the Ford Motor Company, General Motors, Chrysler, Honda, Toyota, Nissan and Lacks Automotive to provide manufacturing and production machine vision applications. Our eVisionFactory (eVF) is recognized as the best-in-class Vision Guided Robotics (VGR) software platform.

RVT was founded in 2010 and is privately held. Chairman and Chief Executive Officer Rick Weidinger, the majority owner, has been busy building the company, hiring scientists, engineers and sales personnel, and establishing its Technical Center and Sales office in Bloomfield Hills, Mich.
RVT has five patents and several pending patents and expects to be granted two more patents by year-end 2013. In addition to the software we have developed, RVT also has purchased legacy technology that has been and will continue to be enhanced. The development of our legacy technology began 18 years ago and it has hundreds of applications running approximately $500 million of capital equipment every day in North American plants.
The company has purposely remained quiet while building its elite technical team and state-of-the-art technical facilities and enhancing its best-in-class technology. We put technology and delivery before sales. RVT is uniquely positioned with owning and licensing a proven, successful market-driven product with an experienced, nimble, cost effective and customer-responsive employee base. We're prepared to expand and make a significant contribution to the next great generation of the automotive and industrial industries.
Please accept our invitation to peruse www.roboticvisiontech.com. We welcome your inquiries regarding our company or the field of Vision Guided Robotics.
Sales executive Jennifer St. John joins Robotic VISION Technologies
Robotic VISION Technologies (RVT) has hired highly regarded sales executive Jennifer St. John, who has 18 years of experience in technology implementation and operational leadership.
St. John, a Michigan State graduate with a degree in Management, has been recognized and earned awards for her achievements in sales, revenue growth, consistency and quality of training.
"Jennifer is a true professional who understands business," RVT Chairman and CEO Rick Weidinger said. "We're very happy to have her representing us. She's a skilled sales leader with a background in client relationship and profit-loss management and strategic planning."
St. John's responsibilies will be to target Tier One suppliers and to bring RVT into different vertical markets.
"We have developed great, industry-leading software in the field of vision robotics and we need to add more partners who can benefit from it," Weidinger said. "We are confident we have found a dynamic leader to accomplish our objectives."
Robotic VISION Technologies' customers include Ford Motor Company, General Motors, Chrysler, Honda, Toyota, Nissan and Lacks Automotive to name a few. The company's products have hundred of installations in plants that operate and control millions of dollars of capital equipment every day running mission critical manufacturing and production applications by blue-chip customers, who have never made a warranty claim.
"I was attracted to RVT because I was looking to work for an entrepreneurial organization which was driven by technology and innovation," St. John said. "RVT has all three.
"I have experience in sales in many different vertical markets and am able to apply my sales skills to any product or service. Our software at RVT is particularly enticing because of its prestige in the VGR marketplace."
Robotic VISION Technologies hires veteran vision software engineer Dave Coker
Robotic VISION Technologies (RVT) has expanded its elite engineering team by hiring vision application engineer Dave Coker, who brings 20 years of experience in the automobile industry to the ground-breaking "see, think and do" software company.
Coker's expertise includes installing RVT's patented eVisionFactory™ software into more than 25 systems including Ford Body and pack-in, pack-out for Toyota, Toyota Powertrain, Ford and Ford Powertrain. He worked for R & E Automated Systems as a robot technician and systems engineer for over nine years immediately prior to joining RVT and for 10 years with Detroit Center Tool as a robot and PLC programmer and robotics supervisor. Coker began his manufacturing career during four years in the United States Navy, where he was an electrician and developed skills in electrical, pipe and wire mechanics.
"Robotic VISION Technologies is the next logical step in advancing my career with robotics and vision technology," Coker said. "Since I was familiar with RVT and know what their vision system is capable of doing, it was an easy choice. I'm very excited to be here. There are so many options to the system and the new additions that are being made to eVF™ software, it is actually fun being part of this growing company.
"After my four years in the Navy, I worked for Detroit Center Tool's robotics group and we installed many underbody products for Chrysler. When I went to work for R & E, I worked as a contractor at (robot integrator) ABB installing stacking and de-stacking systems using eVF™ software with over 25 systems installed successfully."
Coker's background also includes contributions to ABB's TrueView installations
"Dave is considered one of the best robot technicians in the industry," RVT Chairman and CEO Rick Weidinger said. "We're very happy to have him on our team. He's learned the robotics industry from the ground up and through the signficant advances in the last 20 years. He knows everything from programing and debugging to software development and system training.
"He's been working with our software for many years and has a proven record of successful installations. Now, he's working for us and we're confident he'll make valuable contributionss to our partnerships."
About Robotic VISION Technologies LLC
Robotic VISION Technologies LLC is a private company and a recognized leader in the field of intelligent machine vision and robotic vision guidance software. RVT's software and technologies enable vision recognition and robot guidance processes in manufacturing, logistics, material handling, automation, situational awareness and more. RVT's main technology platform--eVisionFactory--features the Henry Ford Technology Award-winning single-camera software product. In addition, RVT has won the prestigious BAE Systems Chairman's Award for its technology and work efforts on the Advanced Weapons Assembly government contract. Customers using RVT's technologies include the U.S. Navy, Toyota, Ford, GM, Chrysler, Honda, Nissan, Harley-Davidson, Battelle Memorial Institute, Boeing and Johnson & Johnson. RVT's eVF software platform is installed in over 200 systems worldwide and operates every day on over $250 million of capital equipment. Robotic VISION Technologies is headquartered in Bloomfield Hills, Mich., with an office in Washington, D.C., and will open an office in Munich, Germany, in October.
Featured Product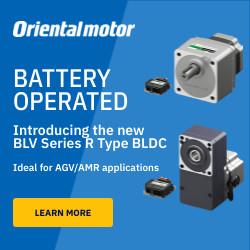 The BLE2 Series replaces our popular BLE Series and continues our brushless motor advantages by featuring an all new compact, high-power and high-efficiency brushless DC motor combined with a Driver that can be digitally set and controlled via external DC voltage or by the front panel. The BLE2 Series can easily compete with larger 3-phase inverter driven motors in many more applications, with built-in simple holding torque function, saving space and increasing performance thanks to the advantages of a brushless motor design. The BLE2 Series has a maximum speed of 4000 r/min, achieving a speed ratio of 1:50 (80 to 4000 r/min). The new motor structure is small than previous models and enables high power and high efficiency while incorporating easy setting, installation and wiring. The new motor connector offers IP66 degree of protection and allows for easy and direct connection between motor and driver with two available orientation of cable outlet direction. Standardized use of stain