Parallax Inc. has seen early success with their new multicore, C-programmable ActivityBot robot, both domestically and abroad. Powered by the company's own multicore Propeller microcontroller and featuring a suite of on-board peripherals, this robot is ideal for teaching circuit design, robotic control and a host of other STEM related topics.
Rocklin, CA October 02, 2013

Parallax Inc., a leading microcontroller and robotics company, recently launched the ActivityBot, a multicore C robot for education and hobbyists. Built on the proven success of the Boe-Bot robot, which has been used in schools around the world, the new robot is already seeing success both domestically and abroad. The competitively-priced robot allows teachers to outfit their entire class, providing a robot to each student. With their own robot, students can learn at their own pace as they build, program, and experiment with sensors. The hands-on robots make circuit building programming, and learning robotic navigation, engaging for students of all levels.
RobotC China, Parallax's Chinese distributor, is an early adopter of the new robot and recently showed it off at a robotics exhibition to thousands in Xi'an, China. "The new ActivityBot is a complete system that we will use in China to inspire students to learn multicore embedded programming, mechanical control, and electronics. The curriculum is easy to follow and expandable for our classroom competitions. Next semester we expect 4,000 students in the Shaanxi Province will use this in their engineering courses," said Terry Sy, Founder Robot C Xi'an China.
The ActivityBot features the Propeller chip, the company's own custom 8-core microprocessor. This multicore chip allows the robot to be programmed to run multiple tasks in parallel, providing seamless processing capabilities. In addition to the robust processor, the robot also features custom high-speed servos and digital encoders for quick and precise maneuvering. This robot provides an ideal platform for learning to program multicore in C as well as experiment with the fundamentals of robotic control and navigation.
Like other core Parallax products, the ActivityBot is supported by a wealth of online resources, including detailed tutorials, ideal for both education and self-guided learning. The SimpleIDE programming tool, a component of the Propeller C Learning System, contains simplified C libraries to streamline the programming process, while still allowing the option for deeper code exploration.
Parallax has been committed to supporting the educational market for over 15 years. In addition to hosting free training seminars for teachers looking to become more familiar with electronics education, Parallax also offers discounted samples of the new robot to qualified educators.
About Parallax:
Parallax designs and manufactures microcontroller development tools and small single-board computers as well as a vast array of products including project boards, robotics kits, educational tools, and sensors. Parallax is dedicated to providing the electronics industry with products that are technically innovative, unique, and economical while staying committed to thoughtful, creative design and quality workmanship. Parallax Inc. is a privately held company located in Rocklin, California.
Follow Parallax: Twitter (http://www.twitter.com/ParallaxInc), Facebook (http://www.facebook.com/ParallaxFan), YouTube (http://www.youtube.com/ParallaxInc), and Google+ (https://plus.google.com/114141326836339690179/posts)
Featured Product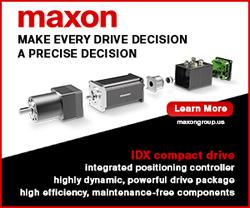 A brushless DC motor solution for use in hip and knee exoskeletons. This complete joint actuation unit consists of motor, gearhead, encoder and position controller. Fitting absolute encoder directly at the joint rotation provides designers increased positioning accuracy. The unit will deliver 54Nm of continuous torque and 120Nm on a 20% duty cycle. The system can be operated on supplies between 10 and 50V DC and the actuation speed is up to 22rpm.