This Southeastern Pennsylvania event provides attendees with presentations and introductions to students and advisors working on university research and related capstone projects in the fields of unmanned vehicles and robotics.
Exton, PA October 02, 2013

The Cluster for Unmanned Vehicles and Robotics (CUVR, Inc.) is excited to announce the launch of the Rising Talent Expo Program in Southeastern Pennsylvania. The Rising Talent Expo will be a daylong event featuring presentations by students showcasing their senior capstone projects and offering insights to their university research in the areas of robotics and unmanned vehicles.
CUVR (http://www.cuvr.org) recognizes the need to promote and encourage our students to further foster the development within their degree programs. The Rising Talent Expo will be a two part program. The fall program is an introduction of the students and their projects in unmanned vehicles and robotics (and supporting topics) to industry leaders and potential investors. The second part of the program is a year end review with the same industry leaders and investors.
CUVR members will be provided with an exclusive opportunity to see a significant number of the areas senior capstone projects and university research under one roof. By participating in these events, industry will meet potential employees, gain insight into regional research, and present opportunities for teaming agreements.
Steve Matthews, VP of CUVR is looking for industry inputs and asks that " . . . all interested individuals take the survey (http://www.surveymonkey.com/s/J6KYZBX) and increase the awareness for academic and industry support to help us shape the future."
About The Cluster for Unmanned Vehicles and Robotics (CUVR, Inc.)
CUVR is a grass-roots, member-driven, Technology Based Economic Development Organization (TB/EDO) focusing on the unmanned vehicles and robotics markets.
CUVR supports all forms of locomotion including ground, air and marine vehicles coupled with a broad spectrum of robotic initiatives including medical, military, personal, industrial and consumer applications. Working closely with industry, CUVR provides its members with well-defined integrated business opportunities that meet an existing economic demand. CUVR works with colleges and universities, individuals, industry and other regional Technology Based Economic Development Organizations (TB/EDO) for transitioning commercial products that are identified, designed, prototyped, engineered, produced, marketed and sold by member companies.
CUVR supports economic growth by seeking out existing targeted research, supporting new company formation in the region, endorsing corporate growth and fostering technology specific start-ups. Funding comes from individual and corporate memberships, public federal, state and local programs, and private and corporate organizations support. CUVR champions efforts directed towards academic networking and K-12 education focusing on current STEM activities. In the future, CUVR will provide, Permanent and Traveling Exhibits, Training, Entrepreneurship Support and Advocacy for its members.
Featured Product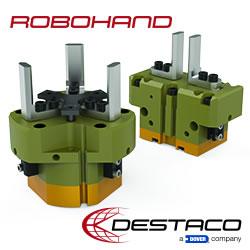 Automatically change end effector tooling quickly and easily with Destaco's Automatic Tool Changers. Designed with exceptional repeatability, high rigidity and load capacity, they are perfect for multiple tooling applications utilizing one robot. We offer different models and sizes to handle light-duty to heavy-duty applications. Our RQC/RTP Series provides a high level of flexibility with a configurable, modular design that accommodates up to four optional modular interfaces.