Brush Research Manufacturing (BRM), maker of flexible hones and nylon abrasive brushes, announces plans to exhibit Flex-Hone® and NamPower brush tools at WESTEC 2013, the West Coast's leading manufacturing tradeshow. BRM surface finishing and deburring technologies enable manufacturers, machinists, and metalworkers to improve surface finish and remove burrs at the same time.
Los Angeles, CA October 08, 2013

Brush Research Manufacturing (BRM), maker of flexible honing tools and abrasive nylon brushes, is announcing plans to attend the WESTEC 2013 tradeshow from October 15 to 17 at the Los Angeles Convention Center. Visit BRM in Booth 1812 for answers to technical questions about surface finishing and deburring, and to learn how the California company's Flex-Hone® and NamPower technologies are improving part quality and reducing cycle times.
WESTEC 2013 is a manufacturing "think tank" where industry leaders compare cutting-edge equipment, examine advanced materials, and learn about everything from machine tools to global markets. By exchanging ideas with presenters, panelists, and peers, WESTEC visitors and exhibitors alike can improve operations, reduce production costs, and build profitable business relationships.
Flexible Hones for Cylinder Walls
BRM's Flex-Hone® is a resilient, flexible honing tool for inner diameter (ID) surface finishing and burr removal. Available in a variety of abrasive types, grits, and tool diameters, these cylinder hones are designed for use with handheld power tools as well as robotic cells, transfer lines, and CNC machine centers. Applications include automotive and hydraulic cylinders, auto parts, and brass instruments.
As BRM's new Flex-Hone® video explains and visitors to the BRM WESTEC booth will see, flexible honing tools feature abrasive globules laminated onto the ends of flexible nylon filaments. With their unique construction, BRM cylinder hones are also self-centering, self-aligning, and self-compensating for wear. By using these deburring tools in machine centers, manufacturers can achieve surface finishes down to the single RA level.
Nylon Abrasive Brushes for Parts Finishing
For outer diameter (ID) deburring and surface finishing, NamPower nylon abrasive brushes combine superior performance with ease-of-use. Tough but flexible, these reliable brush tools conform to part contours, wiping and filing across part edges and surfaces. As visitors to WESTEC 2013 will learn and a new NamPower video shows, NamPower brushes also feature a unique cooling system that promotes tool life.
BRM's NamPower family of abrasive brushes includes abrasive disc brushes, abrasive hex-drive tools, and composite hub wheels. Designed for mounting in machine centers, NamPower nylon abrasive brushes are ideal for use with automotive and appliance parts as well as many other industrial and commercial applications.
About Brush Research Manufacturing
Brush Research Manufacturing (BRM), maker of a full line of flexible honing tools and industrial brushes, is located in Los Angeles, California. For 55 years, BRM has been solving difficult finishing problems with brushing technology. BRM's Flex-Hone® tool is the standard against which all other cylinder hones are compared. NamPower abrasive disc brushes are ideal for outer diameter (OD) burr removal and surface finish improvement. Visit BRM at WESTEC 2013 in Booth 1812.
Featured Product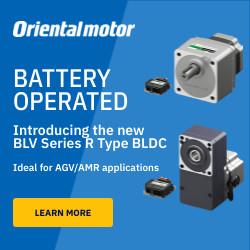 The BLE2 Series replaces our popular BLE Series and continues our brushless motor advantages by featuring an all new compact, high-power and high-efficiency brushless DC motor combined with a Driver that can be digitally set and controlled via external DC voltage or by the front panel. The BLE2 Series can easily compete with larger 3-phase inverter driven motors in many more applications, with built-in simple holding torque function, saving space and increasing performance thanks to the advantages of a brushless motor design. The BLE2 Series has a maximum speed of 4000 r/min, achieving a speed ratio of 1:50 (80 to 4000 r/min). The new motor structure is small than previous models and enables high power and high efficiency while incorporating easy setting, installation and wiring. The new motor connector offers IP66 degree of protection and allows for easy and direct connection between motor and driver with two available orientation of cable outlet direction. Standardized use of stain