AUVSI's Unmanned Systems Europe 2013 conference saw speakers focusing on commercial integration of unmanned aircraft and the path forward to for regulators to make that possible.
Koen De Vos, keynote speaker from DG Move in the Mobility and Transport division of the European Commission, discussed the steps to creating a successful UAS market in Europe. He addressed the timeline of integration, saying he'd like to see unmanned aircraft flying in unsegregated airspace in Europe by 2016, but acknowledged that meeting this time frame would be difficult.

With the European Commission's recent UAS integration roadmap released earlier this year, De Vos says the next steps in 2013 will be working on a commission policy document, leveraging the competencies of the European Aviation Safety Agency (EASA) and the Joint Authorities for Rulemaking on Unmanned Systems (JARUS) to prepare UAS rules, and a definition phase involving the Single European Sky ATM Research (SESAR) program. In 2014, the commission will propose rules to parliament and council if necessary and also will see the adoption of the first UAS rules through EASA.
"We are trying to get our act together," he said. "We know it is very patchy, but we're trying to get all the actors in this and get some coherence into this policy framework."
This movement is a step toward making the European market a more major player, said De Vos.
"What we would like to achieve is to get strong European RPAS policy established so we can make a strong European market."
Maurice Labonde from the International Civil Aviation Organization, said the worldwide air authority has unmanned aircraft as its second highest priority.
From the ICAO point of view, integration globally is huge, he said. Its goal is to have a bottom line that everyone can agree on so integration will be consistent.
Labonde touched on how ICAO's unmanned aircraft panel remains in close contact with the organization's other panels that focus on spectrum issues.
"That's all on the agenda for ICAO, so we are looking forward to get decent answers pretty fast in order to get them to the users who are asking for that," he said.
Aman Pannu, a consultant at Frost & Sullivan, said regulators must continue their work, since there has been a lot of initiative from industry.
"We are no longer at a glacial pace, but there is a lot of work to do."
Pannu has been tracking the use of UAS globally, and highlighted many civil and commercial markets active around the world. But he cautioned about the path forward for many companies currently active in military UAS work.
Understanding the concept of operations is an essential part of when any technology becomes commercial, he said. And you cannot apply the concept of operations from the military directly to commercial UAS use.
Dr. Joseph Barnard of Barnard Microsystems Ltd. raised another key point on transitioning military unmanned aircraft into the commercial market: export control.
"That's one clear thing up front you have to look for," he said. Since many systems right now have been used in theater, transitioning those to oil and gas work in places like Algeria or Pakistan will prove difficult without addressing intellectual property issues, he said.
Mark Sickling of Cyberhawk discussed his company's increased levels of safety when working in the commercial UAS market, primarily for oil and gas and energy monitoring industries. The company has had more than 6,000 commercial flights without incident, he said.
He said he sees using the weight of unmanned aircraft as the sole categorizing factor of regulating them subjects some to seeing small unmanned aircraft more like toys, where he often uses small UAS in high-risk locations instead of for simple aerial photography.
He noted that despite the company's high number of commercial flights, that none of them took place in the United States because of the lack of regulations for commercial systems by the Federal Aviation Administration.
The conference continues tomorrow at the Pullman Cologne in Köln, Germany.
Featured Product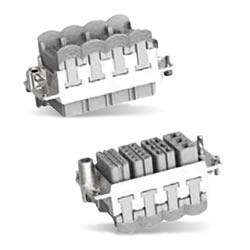 TE Connectivity's HDC Dynamic Module integrates the Dynamic series flexible signal and power solutions and the HDC Heavy Duty Connector series to form a solution of harsh environment connectors. TE's HDC Dynamic Module offers the top features of the two series. It uses the contact concept of the Dynamic series, with its proven performance in industrial uses and its cost effectiveness compared to legacy cutting contacts. The HDC connectors make the module a reliable solution for harsh environments. TE's HDC Dynamic Module supports 2A/32V to 40A/300V performance and 3 positions to 48 positions.