Festo hosts a two day event to promote manufacturing opportunities in the United States.
Hauppauge, NY October 18, 2013

A recent study shows that 600,000 manufacturing jobs are unfilled in the United States due to a gap in the job requirements and the skills of those seeking work within the manufacturing sector. This is why Festo Corporation hosted a two day event designed to draw greater attention to the outstanding opportunities that a career in manufacturing can provide and promote the pursuit of skills that will lead to a long-term career that offers security and growth for qualified candidates.
"Manufacturing today is not the dirty, hot, physically exhausting world of the late 19th and early 20th centuries," said Mike Zakrzewski, vice president of sales at Festo Corporation, in his opening speech to the guests. "Manufacturing jobs today require computer skills, critical thinking and problem solving. Facilities are clean and modern, technology is abundant, jobs pay very well, and career opportunities exist."
On Friday, October 4, 2013, Festo opened its doors to local business associations, politicians, and University officials for a guided tour and presentation designed to highlight the importance of manufacturing to the U.S. economy and showcase the rewarding, highly skilled jobs available in manufacturing fields.
On Saturday, October 5, 2013, Festo invited FIRST (For Inspiration and Recognition of Science and Technology) Robotics Teams, engineering majors, local Boy Scout Troops, and members of the community to participate in a tour focusing on what it means to work in manufacturing.
The events included a presentation by Festo Didactic, the training and consulting division that supports manufacturing skills development and training, and tours of the production facility, mobile exhibitions, and automation labs, featuring displays that showcase the latest automation products and solutions.
National Manufacturing Day is made possible by: the National Association of Manufacturers (NAM); The Manufacturing Institute; the Fabricators & Manufacturers Association, International (FMA); and the U.S. Commerce Department's Hollings Manufacturing Extension Partnership (MEP).
Many jobs in manufacturing today go unfilled because of misconceptions of what it means to be working in manufacturing. By participating, Festo and other companies aim to show the types of opportunities available in automated manufacturing. Festo was proud to participate in such a significant event and is looking forward to participating again in 2014.
For more information, visit http://www.festo.com/us.
Featured Product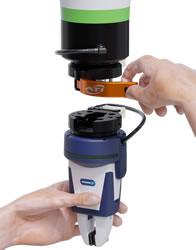 ATI Industrial Automation's MC-10 Manual Tool Changer provides a cost-effective solution for quickly changing tools by hand. Its compact yet robust design is optimized for collaborative robot applications. The ergonomic twist-collar locking mechanism ensures a secure attachment of the tool and easy manual operation with tactile feedback. This Manual Tool Changer can carry payloads of up to 22 lbs and includes multiple fail-safe features that resist vibration and prevent loosening. The MC-10 Manual Tool Changer has integrated air pass-through connections and options to connect electrical utilities if needed. ATI will feature the new MC-10 along with a variety of other robotic demonstrations and product displays at this year's IMTS show in Chicago (Booth #236417).