BlastPro is a vehicle underbelly blast mitigation solution that improves warfighter survivability by reducing energy transferred to the vehicle by up to 50 percent.
RESTON, Va. - October 22, 2013 - QinetiQ North America (QNA) today introduced its BlastPro™ underbelly blast survivability solution for tactical wheeled and combat vehicles at the Association of the United States Army (AUSA) Annual Meeting in Washington, D.C.

BlastPro is a vehicle underbelly blast mitigation solution that improves warfighter survivability by reducing energy transferred to the vehicle by up to 50 percent. As the lightest solution to demonstrate scalable protection up to and beyond MRAP's most stringent 4x standards, BlastPro's unique hybrid material solution and construction provides structural characteristics not found in conventional underbelly kits. Its design is applicable to both new vehicle development and integration upgrades for existing platforms.
System attributes include:
*Integral and/or appliqu© (add-on) installation
*Lighter weight than existing solutions
*Up to five times peak g-force reduction
*Tested and validated on vehicle platforms with up to a 4X charge weight
"In this challenging combat environment, we must continue to enhance the safety of our warfighters," said Dr. Andy Rogers, EVP and General Manager, Technology Solutions, QinetiQ North America. "BlastPro is one of the best vehicle survivability technologies available and it's ready to save warfighter lives, one vehicle at a time."
Operating as the U.S. component of QinetiQ's Global Products division, QNA's Technology Solutions business unit is a world leader in defense and security solutions proven to enhance personnel and platform survivability, force protection and mobility. For more information, please see our website at www.qinetiq-na.com, read our blog techblog.qinetiq-na.com and follow us on Facebook www.facebook.com/qinetiqna or Twitter www.twitter.com/QinetiQNorthAm.
About QinetiQ North America
QinetiQ North America (QNA) is a subsidiary of QinetiQ Group plc, the FTSE250 company listed on the London Stock Exchange (LSE:QQ.L). Operating in North America, QNA delivers world-class technology, responsive services, and innovative solutions for global markets, focusing on U.S. government and commercial customers. Its engineers, scientists and other professionals deliver high quality products and services that leverage detailed mission knowledge and proven, reliable tools and methodologies to meet the rapidly changing demands of national defense, homeland security and information assurance customers. QNA is headquartered in Reston, Virginia. For more information visit www.qinetiq-na.com and join our conversation at www.facebook.com/qinetiqna.
Featured Product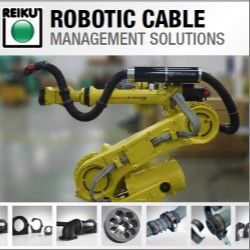 REIKU's Cable Saverâ"¢ Solution eliminates downtime, loss of revenue, expensive cable and hose replacement costs, maintenance labour costs. It's available in three sizes 36, 52 and 70 mm. All of the robots cables and hoses are protected when routed through the Cable Saverâ"¢ corrugated tubing. The Cable Saverâ"¢ uses a spring retraction system housed inside the Energy Tubeâ"¢ to keep this service loop out of harms way in safe location at the rear of the Robot when not required. The Cable Saverâ"¢ is a COMPLETE solution for any make or model of robot. It installs quickly-on either side of the robot and has been tested to resist over 15 million repetitive cycles.