Forge joins an elite, international group of robotics solutions receiving Gamer Changer distinction at RoboBusiness 2013.
Santa Clara, CA October 23, 2013

The Robotics Business Review announced today that the Forge™ Robotic Platform received its inaugural Game Changer Award. Forge, developed by Autonomous Solutions, Inc. (ASI), was nominated for the award in the Autonomous Navigation category-one of eight categories for current and emerging robotic technologies. The winners were announced in a press release this afternoon in conjunction with the RoboBusiness 2013 conference now underway in Santa Clara, CA.
"Every entry was eminently worthy of an award," said Tom Green, Editor-in-Chief of Robotics Business Review. The Game Changer Award received nominations from all over the world in a wide range of industries. "Every product entered displayed an imaginative concept, innovative engineering, and great practicality. Every entry is a marvelous contribution to robotics. All of which made the judging ever so difficult."
The eight-person review panel for the Game Changer award represented an expert, cross-industry perspective including business, engineering, and academia. Each nomination was rated for standout attributes, design, functionality, benefit to robotics as a whole, and impact to the nomination category. With high marks in each focus area, Forge joins an elite class of robotics solutions receiving the Game Changer distinction today.
ASI developed Forge to answer the need for a single platform capable of performing a variety of autonomous, cross-industry duties. Forge leverages advanced vehicle robotics and more than a hundred skid steer attachments to enable full automation of tasks such as mowing, trenching, street painting, and sweeping.
"We've had a lot of requests for an x-by-wire solution," said Mel Torrie, President and CEO of ASI. "We developed Forge to meet that need, and the Game Changer award is an indication that we're very close to where we need to be. We're honored to receive this recognition from the Robotics Business Review and many of our industry peers."
In addition to officially unveiling Forge at the AUVSI Unmanned Systems 2013 conference in August, ASI also announced its intention to develop the Forge Marketplace, a central location where robotics developers and users buy and sell software apps coded for Forge. Customers using ASI's Mobius™ command and control software will be able to access the marketplace and download apps directly into Mobius, and all users will be able to log in through a web-based portal.
"Forge is intended to be a platform robotic solution," continued Torrie. "As the robotics community grows, Forge will be well positioned to be the premier, universal robotic system. It's the next step in perpetuating the unmanned vehicle market."
About Autonomous Solutions, Inc.
For more than 12 years, ASI has been a world leader in unmanned ground vehicle systems and components. From their northern Utah headquarters, ASI serves clients in military, mining, agriculture, manufacturing, and automotive industries with robotic solutions ranging from driver assistance to full multi-vehicle autonomy. ASI's world-class engineering staff is dedicated to the ideals of innovation, quality, simplicity, and safety.
Featured Product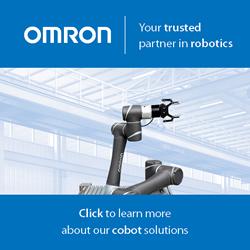 Humans and robots can now share tasks - and this new partnership is on the verge of revolutionizing the production line. Today's drivers like data-driven services, decreasing product lifetimes and the need for product differentiation are putting flexibility paramount, and no technology is better suited to meet these needs than the Omron TM Series Collaborative Robot. With force feedback, collision detection technology and an intuitive, hand-guided teaching mechanism, the TM Series cobot is designed to work in immediate proximity to a human worker and is easier than ever to train on new tasks.