Fisnar Europe has just announced the launch of a new multi-tasking robot model F9960N and will be showcasing it this November at Europe's leading trade fair for electronic production.
This is the first time that partner companies Fisnar Europe and Liquid Control Ltd have attended Productronica and their Managing Director, John Henderson is keen to make an impact at the Munich based event. "The F9960N is a strong addition to the Fisnar Liquid Control product portfolio and we are excited to be launching it at Productronica. I am confident that visitors will be impressed by the robot's versatility, ease of use and cost efficiency."

The F9960N Robot has been designed for safe and secure dispensing applications ranging from miniature SMT circuit boards to larger PCB's and finished assemblies. Users of the new robot will benefit from a great flexibility thanks to its multi tasking capabilities - the F9960N system is ideal for precision form-in-place gaskets, encapsulation, coating, EMI and thermal-grease applications as well as underfill and sealing projects.
New multi-tasking robot model F9960N.
The F9960N is the first Fisnar gantry robot to be mounted within an enclosed free-standing platform. The enclosed environment provides access for fume extraction systems, safeguarding the work force and work place from potentially hazardous substances. Access to the working area is provided by an operator fail-safe, high clearance, security door, which is locked while in operation but easily accessible during programming. The F9960N system can be integrated within a conveyor dependent in-line manufacturing environment or installed as a stand-alone module for independent working.
The F9960N is easy to use - programming a dispense path with unique characteristics, including continuous path and point-to-point routing, is quickly achieved using the interactive 178mm touchscreen display supplied with the system. Other features include software nozzle/tip change alignment routine for quick and automatic program change offsets and step-and-repeat functions for quick programming of multiple and identical objects.
View the F9960N at Productronica in Hall A4 Booth 407, alongside a number of additional Fisnar Liquid Control products well suited to dispensing for electronic component applications.
About Fisnar Liquid Control
Fisnar Liquid Control brings together the manufacturing and design expertise of Fisnar Europe and Liquid Control Ltd. Liquid Control Ltd specialises in the design and manufacture of single and multicomponent precision metering, mixing and dispensing equipment for liquid and paste resin systems, while Fisnar Europe is the world leader in fluid dispensing and dispensing automation. Both companies are owned by the Ellsworth Adhesives Corporation and have formed a strong partnership on account of their complimentary capabilities.
Featured Product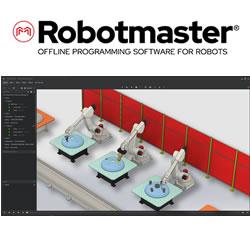 Robotmaster delivers unmatched, full-function off-line programming capability for robots - easy programming of precise robot motion control and quick generation of path trajectories of any size, with minimal programmer intervention. Our strong background in CAD/CAM (Computer Aided Manufacturing) software has enabled us to bring a revolutionary approach to programming industrial robots.