The QU-BD OneUp and Revolution Series 3D printers redefine affordability and speed in 21st century manufacturing.
Little Rock, Arkansas October 26, 2013

QU-BD, Inc. introduces the OneUp and Revolution Series of 3D printers, the least expensive and fastest 3D printers in the world, respectively. The OneUp is the least expensive, commercial grade 3D printer available on the market and features a 50 micron resolution setting a new standard for low cost 3D printers and is currently available on crowdfunding site, Kickstarter.com. The Revolution Series also features a 50 micron resolution but allows unprecedented printing speeds up to 450mm/s and beyond. This allows lightning fast 3D prints that finish in minutes, not hours. Whether you need the most affordable or the highest performance 21st century manufacturing tool, the OneUp and the Revolution set the benchmark that all other 3D printers are measured against.
"The OneUp and Revolution Series 3D printers are a huge leap forward in terms of reliability, print quality and speed; there are not better 3d printers on the market even at 10x the price. Whether you are a professional designer or hobbyist the OneUp and Revolution Series offer the best value in the industry, period," said Nathan Myers, Chief Designer at QU-BD.
Myers emphasized that counter to many competing 3D printer companies, QU-BD will remain open source. "There is nothing proprietary on our printers. The hardware, software and electronics are all open source, free and freely editable. We think this technology should be shared with the world and there is no better course than to give it away." QU-BD continues to make inroads into education by partnering with schools, libraries and community outreach centers to allow the public as much access to this world changing technology as possible.
Product Features
50 Micron Layer Resolution - Double the resolution of most competing printers allows nearly injection molded quality parts, rapidly, for pennies per cubic centimeter of volume.
CNC Machined Frames - Every QU-BD printer uses precision CNC machines to cut the frames and linear motion components. This precision allows for industry leading speed, reliability and accuracy.
Open Source Technology - The world is free to modify, improve, hack, sell and better the community through QU-BD's freely available hardware, software and electronics design files.
About QU-BD, Inc.
QU-BD, Inc. founded in early 2012 by David Mainard and Nathan Myers, both engineers and product development specialists, builds world class 3D printers at affordable price points. Consistent 20% monthly growth and partnerships with 28 3D printer companies as manufacturing OEM, along with producing products sold in more than 80 countries has allowed QU-BD to guide the development of this exciting technology.
Featured Product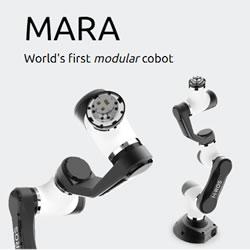 Built out of individual modules that natively run ROS 2.0, MARA can be physically extended in a seamless manner. The modular robot arm delivers industrial-grade features such as a high-speed real time enabled ROS 2.0 communication interface, security protections or a hardware power lifecycle.