NAO Robot Delivers Truly Natural and Conversational Interactions with Nuance's Powerful Voice Recognition and Text-to-Speech, Driving the Future of Human-Robot Communication
Paris, France and Burlington, Mass. - 29 October 2013 - Aldebaran Robotics and Nuance Communications, Inc, (NASDAQ: NUAN) today announced that Aldebaran's renowned NAO Robot will integrate Nuance's conversational voice capabilities to deliver a more natural and compelling experience between humans and robots.

NAO is Aldebaran's successful, fully-programmable and interactive humanoid robot equipped with state-of-the-art motion, vision, tactile and audio capabilities. NAO can walk on different surfaces, track and recognize faces and objects, express and understand emotions, and react to touch and interact by voice. In fact, NAO has integrated Nuance's embedded voice recognition technology to accurately hear and respond to his interlocutor's voice, since 2011.
Aldebaran will now take advantage of Nuance's cloud-based voice recognition and expressive text-to-speech through Nuance's NDEV developer program. Combined, these technologies allow people to have truly natural conversations with the robot, in nineteen different languages. Further, NAO robots will become even further personalized through a custom text-to-speech voice that was specifically developed to match the robot's personality. As a result, Aldebaran will be able to create even more interaction possibilities for future generations of robots, and better develop how they will interact and engage in various settings, including education and special education environments with autistic children, and personal robotics. NAO robots featuring Nuance's Natural Language Understanding and text-to-speech will ship in early 2014.
"Developing natural, conversational interactions with humanoid robots is a challenging and pioneering area of robotics. Our robots have to express and understand emotions and for this, there needs to be expression in their voice that speaks to their personality, and matches their body language," said Bruno Maisonnier, CEO and founder of Aldebaran Robotics at a recent Nuance event. "Nuance and Aldebaran have combined our voice and robotics innovations to showcase what's possible for human-robot communication. Our vision is to create even more intuitive and human-like interactions between man and machine as part of the NAO experience, in turn creating a wealth of new application opportunities for NAO and the next generation of robotic companions."
"Nuance's conversational voice innovations have changed the way people engage their devices, consumer electronics, cars and a variety of applications - and now we're changing the way people can communicate with the world's most sophisticated humanoid robots," said Steve Chambers, president, sales and marketing, and executive vice president, Nuance. "By working with Aldebaran, we're creating unique and compelling possibilities in the space of robotics where people can connect with NAO as if they were connecting with another human being - and that's simply powerful."
Bruno Maisonnier and Steve Chambers Showcase NAO: Watch the video
About Aldebaran Robotics:
Founded in 2005 by Bruno Maisonnier and with offices in France, China, Japan and the United States, ALDEBARAN Robotics designs, produces and commercializes autonomous humanoid robots with the aim of contributing to the well-being of humans. Today over 5 000 NAOs are in use throughout the world as research and educational tools in 70 countries. ALDEBARAN Robotics brings together more than 400 staff, 40% of whom are engineers and PhDs who are involved in the development and production of the robots. For further information, visit www.aldebaran-robotics.com.
About Nuance Communications, Inc.
Nuance Communications, Inc. (NASDAQ: NUAN) is a leading provider of voice and language solutions for businesses and consumers around the world. Its technologies, applications and services make the user experience more compelling by transforming the way people interact with devices and systems. Every day, millions of users and thousands of businesses experience Nuance's proven applications.www.nuance.com.
Featured Product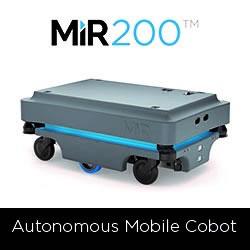 MiR200 is a safe, cost-effective mobile robot that automates your internal transportation. The robot optimizes workflows, freeing staff resources so you can increase productivity and reduce costs. MiR200 safely maneuvers around people and obstacles, through doorways and in and out of lifts. You can download CAD files of the building directly to the robot, or program it with the simple, web-based interface that requires no prior programming experience. With its fast implementation, the robots offers a fast ROI, with payback in as little as a year.