Unified 2D & 3D CAD Platform Adds Sheet Metal Design, 3D Data Exchange, Associative Views and Sections, and Major Enhancements to Its Intelligent Quad Cursor
Ghent, Belgium and Merrimack, NH, USA October 29, 2013

Bricsys, a global provider of dwg engineering design software brought to market under the BricsCAD® brand, today announced the immediate availability of BricsCAD V14 for Windows. This new release extends BricsCAD with a refresh of the user interface, major enhancements to the intelligent Quad cursor, an optional suite for 3D interoperability, new functions for generating associative 2D and 3D views and sections from 3D models, and sheet metal design for the mechanical CAD market. It is available in 32-bit and 64-bit versions. Introductory movies for the new functionality can be found here.
"I'm very proud of the distributed development teams who worked incredibly hard to bring so much new functionality into the V14 release of BricsCAD," said Erik De Keyser, Bricsys CEO. "With V14 we continue to deliver on our promise to unify 2D CAD and 3D direct modeling for dwg."
Since the introduction of direct modeling functions in BricsCAD V12, the function most requested by users is the ability to generate associative 2D and 3D drawing views from 3D models. With BricsCAD V14, Bricsys introduces new commands to automatically generate orthographic, isometric, and section views. The views are updated automatically when the 3D model changes.
The new sheet metal design capabilities in BricsCAD create sheet metal parts by extruding 2D profiles and then adding new flanges through pulled edges. Bends, junctions and reliefs are added automatically. All direct modeling operations and 3D constraints can be applied to editing sheet metal parts. To output designs to computer-aided manufacturing (CAM) systems, sheet metal parts can be unfolded automatically and then exported as 2D .dwg or 2D .dxf files.
BricsCAD Communicator is an optional plug-in for the Pro and Platinum editions of BricsCAD that imports and exports 3D data between major CAD formats. Its high quality translations facilitate the re-use of 3D CAD data, thereby improving productivity and reducing project costs. Supported formats include neutral (e.g. STEP and IGES), native MCAD (e.g. CATIA, Inventor, SolidWorks) and kernel specific formats.
V14 gives BricsCAD a fresh new look and feel with re-designed icons presenting a clean-looking interface. New commands, such as AddSelected and SelectSimilar, together with substantial improvements to the context-sensitive intelligent Quad cursor (patents pending), provide users double-digit productivity improvements by offering most-used commands right at the cursor and reducing clicks to a minimum.
Additional new functions in BricsCAD V14 include the following enhancements:
*Annotative styles and entities supported by a suite of related commands, variables, and extensions
*Parameters and formulas applied to 3D constraints
*New graphical bar for navigating through more than 30,000 3D standard parts easily
*New Helix and Sweep commands for 3D modeling
*New QDim, MLeader, ConvertPoly, and HatchEdit commands for 2D drafting
*Support for 3Dconnexion 3D mice
*MText editor with integrated IME facilitates entering Asian text
*New licensing engine for stand-alone, network, and volume licenses
Third Party Solutions
BricsCAD is both a powerful CAD software package and a full-fledged CAD development platform, on which application developers create value-added solutions. A worldwide network of more than 800 application developers is using APIs of the BricsCAD platform to develop value-added solutions targeted at specific industries and disciplines. The APIs include LISP, DCL, VBA/COM, .NET, and BRX. More than 300 solutions across twenty categories are available through the eStore Catalog on the Bricsys website, with more coming online each month.
Available Now
All English language versions of the BricsCAD V14 software, including the no-charge 30-day trial version, are available for immediate delivery. They can be downloaded from the Bricsys website or obtained from BricsCAD sales partners in more than 70 countries worldwide. Translated versions in 17 languages will be made available in the coming weeks.
Prices for BricsCAD V14 editions range from €380/$485 to €985/$1,145, while the BricsCAD Communicator module is priced at €490/$610. For more information and a list of BricsCAD sales partners in your area, please email sales(at)bricsys(dot)com.
About Bricsys
Bricsys is a global provider of dwg engineering design software brought to market under the BricsCAD® brand. With its relentless commitment to the success of the BricsCAD community, Bricsys is focused on providing industrial-strength CAD software and industry leading support at a compelling price. Its customers can be found in the AEC, GIS, civil engineering, process and power, and mechanical CAD markets.
Bricsys was founded in 2002, and is a founding member of the Open Design Alliance. For additional information about Bricsys, visit http://www.bricsys.com.
About BricsCAD
BricsCAD is the powerful CAD software and development platform unifying the familiar feature set of native dwg with advanced 2D tools and intelligent 3D direct modeling on Windows and Linux. Engineering and manufacturing professionals can enter the world of 3D direct modeling without needing to leave the familiar dwg environment, and at a compelling price.
BricsCAD provides application developers with the software platform and broad suite of standard APIs required to deliver advanced solutions to cost conscious customers in the AEC, GIS, civil engineering, process & power, and mechanical CAD markets. Available in 17 languages and with hundreds of third-party solutions, BricsCAD is more than just an alternative solution. For more information about BricsCAD, visit http://www.bricsys.com/BricsCAD.
Featured Product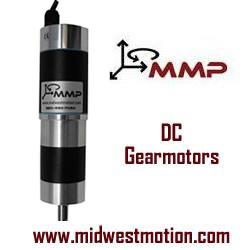 Midwest Motion Products Inc., based in Howard Lake, Minnesota, is pleased to announce the release of the new "GRA52" Right Angled Gearmotor System. This new 1:1 Right Angled Gearbox allows for significantly increased versatility, and design whose geometry allows for the unit to be mounted in tight spaces. We employ our Standard Brushed or Brushless DC Motors and Planetary Gearheads to complete the new R/A Design. Features/Benefits: Cost effective design - as low as $250*, Very Versatile - Output Ratios ranging from 3.7:1 to 2076:1, Fully Reversible Design, Readily available - Samples can be built from Stock Material, High Volume capacity.