Colorado Springs-based 3 & 5 Axis CNC router designer & manufacturer, Diversified Machine Systems (DMS) dispels concern over stability of CNC automation partner company, Fagor Automation, a cooperative MONDRAGON Corporation company as MONDRAGON consumer appliance division, Fagor Electrodomesticos proceeds through a restructuring plan.
Colorado Springs, CO October 30, 2013

Diversified Machine Systems, a leading US-based 3 & 5 axis CNC machine center designer and manufacturer in Colorado Springs, CO, confirms growth of international cooperative partner, Fagor Automation, a MONDRAGON Corporation company.
Fagor Electrodomesticos, one of the 289 autonomous and legally-independent MONDRAGON cooperative companies, is the fifth largest consumer appliance company in Europe. It has recently announced that it is proceeding with a restructuring plan to transform the business structure.
MONDRAGON Corporation is the 1st Basque business group and the 7th largest business group in Spain, and is restructuring the appliance maker division to meet the same performance levels as other cooperative companies such as Fagor Ederlan (Automotive), Fagor Arrasate (Press Manufacturer), Fagor Industrial (Industrial Appliances) and Fagor Automation which have continued to see international growth.
MONDRAGON's cooperative structure means that most of their employees are partners in the firm, and has grown to employ almost 66,000 in Spain and over 14,000 internationally. The Fagor Electrodomesticos company represents fewer than 5,600 of these employees worldwide.
In a recent press release, MONDRAGON announced that of the 289 cooperative entities, 110 are cooperatives and they employ 80,321 people - 42% in the Basque Country, 40% in the rest of Spain, and 17% in the international market. The 105 production centers worldwide employ 14,000 people, 15 technical centers employ 2,096 researchers that are investing in the corporation who participate in 91 international R&D-related projects and hold 564 families of invention patents.
Fagor Automation is one of the world's largest manufacturers of CNC Control Systems, Servo Motors & Drives, Feedback Systems & DRO Systems that DMS includes as a standard offering on their 3 Axis and 5 Axis CNC Routers. The Diversified Machine Systems' partnership with Fagor Automation and the MONDRAGON Corporation has led to continued improvements in DMS' competitiveness in the CNC manufacturing industry.
In July, Fagor Automation CEO, Pedro Ruiz de Aguirre and North America General Manager, Harsh Bibra visited the new DMS world headquarters located at 1068 Elkton Drive in Colorado Springs, CO. Learn more about DMS at: http://www.DMSCNCRouters.com.
Be sure to connect with us socially for other CNC news updates:
Twitter.com/DMSCNCRouters
YouTube.com/DMSCNCRouters
Facebook.com/DMSCNCRoutersandMachineCenters
About Diversified Machine Systems
Diversified Machine Systems (DMS) is a leading designer and manufacturer of 3 & 5 Axis CNC routers & custom machining centers headquartered in Colorado Springs, CO. With more than 30 years of innovation and industry experience as an Original Equipment Manufacturer, DMS' line of CNC routers and machining centers are routinely used internationally on materials such as wood, composites, aluminum, steel, plastics, and foams. Renowned for quality and precision, our advanced machining centers are engineered to increase efficiency and productivity, while maintaining the quality and precision our clients have come to expect from DMS.
Featured Product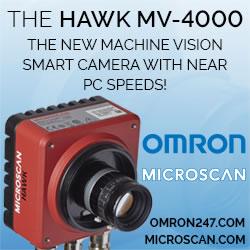 Awe-inspiring power and superior flexibility is sheathed within the contoured casing of the HAWK MV-4000. This smart camera builds upon the previous generation by quadrupling processing power and achieving real-time trigger response using an FPGA. Its state-of-the-art algorithms make it an excellent tool for any industry, whether the requirement be code reading, code verification, inspection, guidance, gauging or a combination of all four.