Famic Technologies, recognized the world over for Automation Studio™, the renowned design and simulation software for fluid power, electrical and automation, announces the release of its latest hydraulic catalogue V4.0. This catalogue offers a superior list of components currently in-demand from its broader Automation Studio™ mobile and industrial hydraulic users' community for quick systems design, simulation and integration tasks in Automation Studio™ P6.
October 30, 2013

The latest hydraulic catalogue complements a robust portfolio of manufacturers' specific catalogues available for current subscribers from Fluid Power manufacturers such as: Comatrol, Danfoss, Delta Power, Eaton, Hydraforce, Linde, Sun Hydraulics and offers a broad collection of frequently used functions, components and accessories from a range of other leading brands such as: Bosch Rexroth, Bucher, Hawe, Husco, Hydac, Kawasaki, Mico, Moog, Parker Hannifin, Wabco, Walvoil and many others, that are delivered with complete documentation including simulation parameters, data sheets and test benches for easy access in Automation Studio™ P6.
All the functions available in the catalogue are preconfigured and "ready to simulate" for both mobile and industrial hydraulic applications. These functions include:
*Closed & Open Loop Pumps with advanced regulation types & control modules;
*Wide range of motors including bent axis, axial and radial pistons technologies;
*Load sensing control systems with pre & post compensation/flow sharing devices;
*Steering units with priority valves, static & dynamic & flow amplifiers;
*Complete braking systems composed of accumulator charging and modulating brake valves;
*Advanced servo valves and substantially increased range of industrial valves;
*And many others.
Thus making the Automation Studio™ Hydraulic catalogue V4.0 ideal for OEMs, machine designers and systems integrators in a wide range of industries from Agriculture, Construction, Energy Manufacturing, Metallurgy, Mining, Oil and Gas, to name a few.
Mr. Charbel Nasr, President of Famic Technologies states, "After working closely with our Automation Studio™ users' community, we are very pleased to provide such an exhaustive list of components that are currently in use and applicable for the development of the next generation of hydraulics machines and systems. We will maintain our efforts in order to support the trend in demand in the Fluid Power industry for components, systems and prebuilt hydraulic functions, as they have become an invaluable resource for our customers. Automation Studio™ users will be pleased with the increased productivity brought by this catalogue."
About Famic Technologies
Founded in 1986, Famic Technologies offers a full range of quality products and services in the fields of software engineering and industrial automation. It develops, integrates and markets CAD and simulation software solutions for electrical, hydraulics, pneumatics, automation and controls applications which support design, operations, management and training. Famic Technologies provides innovative software solutions to help engineers, maintenance personnel and trainers substantially increase their efficiency in systems design, maintenance and training. Since January 2012, Famic Technologies has opened a sales and support office in Germany to better serve customers' needs in Europe. http://www.famictech.com
About Automation Studio™
Automation Studio™ is a leading software solution developed by Famic Technologies that helps reduce machine time-to-market and optimizes the entire workflow of a project or product lifecycle. It seamlessly integrates system design engineering, simulation, prototyping, testing, troubleshooting, diagnostics, maintenance, service, training, and documentation, and is offered in 11 languages. Automation Studio™ is among the most complete trade-oriented system design and simulation software solutions in the fields of fluid power, electrical and automation. http://www.automationstudio.com
Featured Product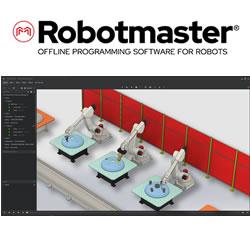 Robotmaster delivers unmatched, full-function off-line programming capability for robots - easy programming of precise robot motion control and quick generation of path trajectories of any size, with minimal programmer intervention. Our strong background in CAD/CAM (Computer Aided Manufacturing) software has enabled us to bring a revolutionary approach to programming industrial robots.