Juchmann to Discuss Potential of Intelligent Transportation Systems Powered by LiDAR Technology
Morgan Hill, Calif. October 29, 2013

Fender-benders a thing of the past?
As part of a U.S. Department of Transportation-sponsored Technology Scan and Assessment Webinar Series, Wolfgang Juchmann, Ph.D., Director of Sales and Marketing of Velodyne Acoustics Inc.'s LiDAR division (http://www.velodynelidar.com), will present active sensing LiDAR technology as a potential path to averting collisions.
The goal of the Technology Scan and Assessment Webinar Series is to synthesize and enrich the discussion about new technologies among members of the engineering community interested in connected vehicles. The webinar series covers a number of new technology-enabled systems that may potentially interface with a future Dedicated Short Range Communication "connected vehicle" core system. This series is sponsored by the US Department of Transportation (USDOT) Intelligent Transportation Systems Joint Program Office (ITS-JPO).
Who: Juchmann has more than 14 years of international experience in technical sales, product management, and marketing of industrial lasers and optical products for a variety of applications. The combination of Juchmann's technical background, commercial expertise and passion for customer satisfaction enables him to lead new product developments for Velodyne's LiDAR division, as well as manage existing product portfolios. He holds a PhD. in Laser Spectroscopy from the University of Heidelberg, Germany.
What: "Use of LiDAR in Intelligent Transportation Systems: The Experience of Velodyne in Autonomous Driving and Road Infrastructure Characterization" - Technology Scan and Assessment Webinar Series
Juchmann will discuss the potential for LiDAR technologies to serve as an active sensing technology in crash avoidance, driving automation and mobile road survey and mapping. As part of the discussion, he will describe LiDAR technologies, including unique and compact LiDAR sensors that provide vehicles with a 360-degree view of their environment, with real-time updates of 20 times per second.
When: Wednesday, October 30, 2 p.m. The webinar is expected to run for one hour.
How: Registration is free and open to all. Participants may register at: http://www.itsa.org/component/forme/?fid=58.
About Velodyne LiDAR
Founded in 1983 and based in California's Silicon Valley, Velodyne, Inc. is a diversified technology company known worldwide for its high-performance audio equipment and high-definition LiDAR sensors for autonomous vehicle applications. The company's LiDAR division evolved after founder and inventor David Hall competed in the 2004-05 DARPA Grand Challenge using stereovision technology. Based on his experience during this challenge, Hall recognized the limitations of stereovision and developed the HDL64 high-resolution LiDAR sensor. More recently, Velodyne has released its smaller, lightweight HDL 32E sensor, available for many applications including UAV's. Since 2007, Velodyne's LiDAR division has emerged as a leading developer, manufacturer and supplier of high-definition LiDAR sensor technology used in a variety of commercial autonomous vehicle applications, including 3D mapping and surveying. For more information, visit http://www.velodynelidar.com.
Featured Product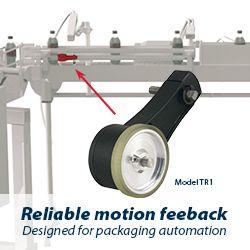 EPC is excited to announce our NEW online 3D Configurator. This new tool makes it even easier to configure EPC's products exactly how you need them for your application. The 3D Configurator interface is intuitive and works in any web browser for both desktop and mobile. It'll only take you a moment to learn your way around the program. Careful, though: it's so fun to play with, you may spend a whole afternoon on it!