- RE2 Teams with Insitu Inc. to Demonstrate UGV/UAS Solution -
PITTSBURGH, PA - October 30, 2013 - RE2, Inc. announced today that the Company has been awarded additional funding by the Department of Defense to commercialize its high speed inspection robot called the ForeRunner. The ForeRunner unmanned ground vehicle (UGV) was developed under an Army Small Business Innovation Research (SBIR) program and the additional funding was awarded through the Robotics Technology Consortium as a Phase III SBIR with the Army's Tank and Automotive Research Engineering and Development Center (TARDEC).

The goal of this program is to provide the Army with unmanned ground vehicles and unmanned aerial systems (UAS) that are truly integrated and can be simultaneously controlled by a single operator from one control station, ensuring increased situational awareness and improved mission effectiveness.
"Our goal is to provide the Army with true unmanned systems teaming capabilities," stated Tim Davison, Chief Engineer at RE2. "This means, for example, that information gathered from a UAS, such as potential roadside threats, can be used by the UGV to safely guide a convoy."
During the Phase III commercialization effort, RE2 will focus on integrating the ForeRunner UGV with the Insitu Common Open-mission Management Command and Control (ICOMC2) ground control station. ICOMC2 will simultaneously control the ForeRunner and Insitu's Unmanned Aerial System (UAS). Insitu is a wholly owned subsidiary of The Boeing Company.
"Our team at RE2 has been working for several years to create truly modular unmanned systems and robotic manipulator arm payloads," stated Jorgen Pedersen, president and CEO of RE2. "Through this Phase III SBIR opportunity and in collaboration with Insitu we are able to validate and demonstrate the benefits of a truly interoperable system."
RE2 and Insitu will also co-develop the Joint Architecture for Unmanned Systems (JAUS) software plug-in for ICOMC2. JAUS is an interoperability standard within the DoD robotics community that enables unmanned systems, platforms, payloads, and control systems to communicate. JAUS enables interoperability between systems developed by different companies allowing the DoD to procure the most appropriate modular open-architecture systems for the current missions.
About RE2, Inc. RE2 is a leading developer of Intelligent Modular Manipulation Systems. RE2's mission is to advance the state of the art of mobile manipulation. RE2's development efforts are focused on creating plug-n-play manipulation systems and end-effectors that are interoperable with existing and next-generation robotic platforms. RE2's products include the RE2 Family of Manipulators, RE2 Family of Quick Releases, ForeRunner UGV, and Robotics Engineering Services. For more information, please visit www.resquared.com or call 412.681.6382. RE2, Inc.
Featured Product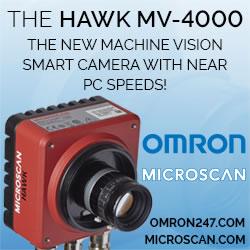 Awe-inspiring power and superior flexibility is sheathed within the contoured casing of the HAWK MV-4000. This smart camera builds upon the previous generation by quadrupling processing power and achieving real-time trigger response using an FPGA. Its state-of-the-art algorithms make it an excellent tool for any industry, whether the requirement be code reading, code verification, inspection, guidance, gauging or a combination of all four.