Custom-Built, Cincinnati Milacron 2600-Ton Maxima Servo Press to Bolster Adams' Large Tonnage Proficiency
PORTERSVILLE, Pa., Nov. 5, 2013 -- Adams Manufacturing, a prominent western Pennsylvania-based custom injection molder and "Made in USA" supplier of high-quality resin furniture, announced today that it has completed installation of a custom-built, Cincinnati Milacron 2600-ton Maxima Servo injection molding press. Fueled by continued growth and market demand for large injection molded parts, this new energy-efficient press will allow Adams to optimize processes for highest part productivity, part quality and operational profitability.

"Today's custom injection molding clients demand speed, precision, capacity and repeatability (at the highest possible value), and they are requesting best-in-class technology to meet their needs," said Tom Lombardo, President & CEO at Adams Manufacturing. "We're committed to helping our customers stay on the cutting edge by continually introducing new injection molding solutions that will help them maximize production efficiencies."
Rounding out a growing stable of 30 modern machines that range in size from 55-2600 tons, this new investment is designed to make Adams more agile and responsive to client needs. Overall, the addition of this new press will increase Adams competitiveness, providing opportunities for molding customers to adapt to the latest injection molding technology.
Commenting on their growth, David E. Lawrence, CEO and President, Milacron, said, "Customers have long turned to Adams for some of their most demanding molding projects. This expansion further extends their robust capabilities by delivering large tonnage production at the highest possible efficiency and value."
With a long clamp stroke, large daylight and spacious tie bar clearance, Adams new energy-efficient 2600-ton servo press allows for plenty of room for over-sized and stack molds. The new Maxima Servo machine provides up to 60% energy savings over similar machines, with a reduction in molding costs, lower noise levels, heat load on the factory floor and maintenance costs.
About Adams Manufacturing
With 30 modern presses ranging from 55-2600 tons, Adams Manufacturing is the region's leading custom plastic injection molder, specializing in large-tonnage presses. Adams is also a premier supplier of exceptional quality, American-made residential and commercial outdoor resin furniture, as well as suction cups.
Founded in 1976, Adams Manufacturing is headquartered in Portersville, Pennsylvania, with state-of-the-art manufacturing and distribution facilities located throughout the state. For more details about Adams Manufacturing custom injection molding services, please visit: www.custominjectionmolding.com, or call 800.237.8287 x161.
Featured Product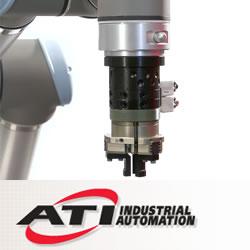 The ATI Robotic Tool Changer provides the flexibility to automatically change end-effectors or other peripheral tooling. These tool changers are designed to function reliably for millions of cycles at rated load while maintaining extremely high repeatability. For this reason, the ATI Tool Changer has become the number-one tool changer of choice around the world. ATI Tool Changer models cover a wide range of applications, from very small payloads to heavy payload applications requiring significantly large moment capacity.