Leading UAV platform company targets 24/7 "persistent" operations
DANVERS, Mass.--CyPhy Works, a leading developer of advanced Unmanned Aerial Vehicles (UAVs), today announced the close of a $7 million financing round led by Lux Capital, with participation from General Catalyst Partners, Felicis Ventures and several undisclosed prominent angel investors. As part of the financing, Lux Capital Partner Bilal Zuberi will join the CyPhy Works board of directors.

CyPhy Works has developed a world-class technology platform of easy-to-operate flying robots for applications in the military, civil and commercial sectors. The company has so far announced two products on its platform: EASE (indoor hovering robot) and PARC (outdoor multicopter platform). As part of this funding round, CyPhy Works will expand its development and deployment of UAVs in surveying and situational awareness for commercial sectors such as agriculture, mining, construction, oil & gas, insurance, infrastructure, and others.
CyPhy Works is led by its founder and CEO Helen Greiner, who was also the co-founder, President and Chairman of iconic robotics innovator iRobot® (NASDAQ: IRBT). Since its founding in1990, iRobot has become the global leader in mobile robots with the success of the Roomba® Vacuuming Robot and the PackBot® and SUGV Military Robots.
"The opportunity to bring flying robots (i.e. UAVs) to commercial sectors for imaging, surveying, mapping, monitoring and other applications is truly exciting," said Helen Greiner, CEO of CyPhy Works. "We are building a reliable and robust platform that is differentiated from hobbyist class UAVs, and is specifically designed for field operations in rough real-world conditions. CyPhy platforms will provide reliable "persistent", 24/7 remote imaging data previously unavailable to agronomists, surveyors, mine operators, insurance companies, and security agencies."
"Helen is one of the most amazing technical founders of our generation," said Bilal Zuberi, Partner at Lux Capital. "She previously built the most dynamic and successful robotics company in the world, iRobot, and Lux Capital is proud to partner with her. CyPhy Works is a pioneer in the world of UAVs, and their flying robots bring 21st century technologies such as distributed sensors, imaging, and big data analytics to some of the biggest industries in the world."
The UAV industry in the U.S., and around the world, is seeing rapid growth and CyPhy Works has a leading position and the best-of-class technology platform to benefit from it. AUVSI predicts the market for UAV uses to be in the tens of billions of dollars within this decade, generating hundreds of thousands of jobs in the U.S. alone.
CyPhy Works offers proprietary commercial grade 'no-pilot' hardware systems, autopilot and control software, un-interrupted high-def and infrared imaging, laser measurement sensors, and data management solutions. In addition to the traditional benefits of UAVs, the company also has developed a proprietary microfilament technology that can be used for persistent operation in the field for hours/days/weeks without needing frequent battery swaps, and for real-time secure data transfer to the ground station. CyPhy Works' UAV platform also allows for additional sensors to be easily mounted for application specific uses.
The CyPhy Works team has a strong pedigree in robotics, UAVs, artificial intelligence, manufacturing, and in providing worldwide sales, service and support model for its customers. The company also provides its customers with access to decades long experience in management and compliance with federal/state regulations regarding communications, safety and privacy.
About CyPhy Works
CyPhy Works is a leading robotics company developing Unmanned Aerial Vehicles for commercial, civil and defense applications. The name CyPhy Works comes from this - CyPhy (pronounced: Sci-Fi) is a contraction of Cyber and Physical. And Works is intended to incorporate all of its possible meanings. We want to make cyber physical systems that work for and empower people. We are technology lovers at heart, but we know that it all begins and ends with people, and that is the basis of our company and the foundations of our mission statement-Our community inspires; Our team creates; Our robots empower. For more information please visit http://www.cyphyworks.com.
About Helen Greiner
CyPhy Works' founder & CEO Helen Greiner is a pioneer in commercial, consumer, and military mobile robots. She was named a one of America's Best Leaders by the Kennedy School at Harvard in conjunction with the U.S. News and World Report and was honored by the Association for Unmanned Vehicle Systems International (AUVSI) with the prestigious Pioneer Award. She has also been honored as a Technology Review Magazine "Innovator for the Next Century" and has been awarded the DEMO God Award and DEMO Lifetime Achievement Award. She was named one of the Ernst and Young New England Entrepreneurs of the Year, invited to the World Economic Forum as a Global Leader of Tomorrow and Young Global Leader, and has been inducted in the Women in Technology International (WITI) Hall of Fame and the National Academy of Engineering. Ms. Greiner is a Trustee of the Boston Museum of Science (MOS) and on the Board of Visitors of the Army War College (AWC). Greiner holds a bachelor's degree in mechanical engineering and a master's degree in computer science, both from MIT. She was presented with an honorary PhD by WPI in 2009.
Featured Product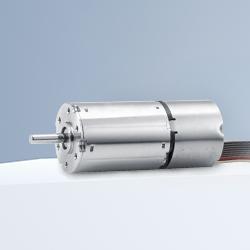 FAULHABER MICROMO launches the new MC3/MCS motion control family. The new high performance, intelligent controllers are optimized for use with FAULHABER motors, offer electronics for simple operation with state-of-the-art interfaces for multi-axis applications, and provide a motion control system solution with the most compact integration into industrial grade housing.