New system leads the pack with three-axis precision fluid dispensing in cutting-edge semiconductor and microelectronics assembly at Productronica Stand A2-339
Carlsbad, CA, USA - 05 November 2013- Nordson ASYMTEK, a Nordson company (NASDAQ: NDSN), a leader in dispensing and jetting technologies, will introduce the Spectrum™ II at Productronica this year, marking the 6-year anniversary of the introduction of the Spectrum series of high-speed, high-accuracy dispensing platforms for a wide variety of precision dispensing applications in microelectronics and semiconductor manufacturing and MEMS and LED assembly. The Spectrum II S2-900 Series leverages the same small footprint of 600mm x 1321mm as the original Spectrum to provide maximum productivity with minimum manufacturing floor space, but improves the precision, accuracy, and speed of the system to rival much larger platforms.

"Miniaturization trends in semiconductor applications continue to push the limits of fluid dispenser capabilities to accurately dispense into smaller spaces between board components, camera modules, and die. Customers are increasingly more concerned with consistency and straightness of their dispensed lines, not just dot A to dot B system motion, in order to shrink their end applications," explained Garrett Wong, Spectrum Series product manager, Nordson ASYMTEK. "MEMS sealant lines and solder paste applications challenge dispenser capabilities in precision Z-gap control and line path accuracy to achieve their required thin line widths and small dot sizes. The new Spectrum II product family meets the needs of this market by driving mechanical and software improvements to achieve ultimate precision and accuracy in all three axes -- X, Y, and Z -- at speeds up to 30,000 dots per hour with a minimal footprint to maximize productivity per square meter."
The new Spectrum II system introduces features that enable new levels of precise fluid dispensing:
*Precision Z-axis performance, formerly only offered as an option on ASYMTEK's large area platform, has been integrated into every Spectrum II system to enable consistent <200µm dots and solder paste line dispensing for MEMS and HDD assembly.
*Tilt Jetting capability for precision coating and underfill in hard to reach areas, providing up to 30-degree tilt with most valves. Underfill can get closer to the die edge for tighter keep-out zones.
*Automatically Adjusting Dual Simultaneous Dispensing minimizes downtime and operator intervention by automatically adjusting valve positions for workpiece skew while dual simultaneous valves decrease the cost of units per hour.
*Higher Brightness Vision Lighting creates increased contrast for difficult applications, improving fiducial find accuracy and consistency.
*Higher Accuracy Non-Contact Laser Height Sensors improve detection of surface heights and allow tighter dispense gaps for thinner dispense lines.
As an evolution of the popular Spectrum S-920N, the new Spectrum II system maintains all of the benefits of the prior system such as:
*Fids-on-the-fly software for faster fiducial capturing
*Patented Calibrated Process Jetting (CPJ™) for closed-loop dispense repeatability
*Configurability with single or dual lanes, and up to six heat stations
*Flexible number of heating zones and optional Controlled Process Heat (CPH™)
*Backed by a global network of fluid dispensing experts and support.
"As the newest product from Nordson ASYMTEK, the Spectrum II system builds upon one of the world's most popular automated fluid dispensing systems. It adds higher dynamic accuracy with single and dual valve configurations while continuing the tradition of flexible configuration," said Wong.
Demonstrations of the Spectrum II can be seen at Productronica 2013, Munich, Germany, from November 12-15 at Stand A2-339. For more information or to see a demonstration contact Garrett Wong at info@nordsonasymtek.com or watch the video of the Spectrum II in action on our website at www.nordsonasymtek.com/highaccuracy.
Featured Product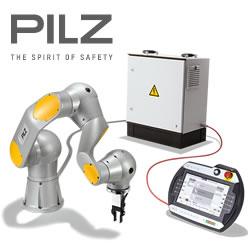 Our service robotics modules give you an easy start in robotics. Assemble your individual robot application - exactly according to your requirements: Service robotics modules consists of the manipulator module PRBT, the control module PRCM, the operating module PRTM and ROS modules. Our collision measurement set PRMS for human-robot collaboration (HRC) supports you reliably on your path to a safe application. Application areas of the service robotics modules can be found in service robotics and industrial environments. Benefit from our cost-efficient, flexible solution!