November 12 - 15, 2013 at the New Munich Trade Fair Centre in Munich, Germany
Nov 5,2013

Nordson YESTECH, a subsidiary of Nordson Corporation (Nasdaq: NDSN) and a leading supplier of automated optical and X-ray inspection systems for the electronics industry, will feature the FX SL AOI in Hall A2, Stand 438 at the Productronica International Trade Fair, scheduled to take place November 12 - 15, 2013 at the New Munich Trade Fair Centre in Munich, Germany. The new high-speed FX SL advanced AOI inspection system for populated printed circuit boards will be on display with live demonstrations during the four-day event.
Nordson YESTECH's FX SL AOI offers high speed "capture on the fly" inspection and utilizes a flexible and comprehensive set of inspection tools, including angled cameras, a 3D height sensor, advanced Fusion Lighting™, full color digital image processing technology and both image- and rule-based algorithms. Configurable for all line positions, the FX Series is equally effective for paste, pre / post-reflow and final assembly inspection. Off-line programming maximizes machine utilization and real-time SPC monitoring provides a valuable yield enhancement solution.
With Nordson YESTECH's advanced color camera imaging technology, the system offers high-speed PCB inspection with exceptional defect coverage. With one top-down viewing camera and four side-viewing cameras, the FX SL inspects solder joints and verifies correct part assembly, enabling users to improve quality and increase throughput.
Additionally, the Nordson YESTECH BX-UV will be fully operational in the "Cleaning and Contamination Testing Center," located in Hall A2, Stand 530 during the four-day event. The BX-UV makes inspection of conformal coatings simple and convenient by automating the inspection process for quality and consistency of coatings under UV lighting with the use of proprietary inspection algorithms. The center will provide practical support to visitors keen to implement new cleaning and contamination monitoring processes as well as overcome reliability failures.
Featured Product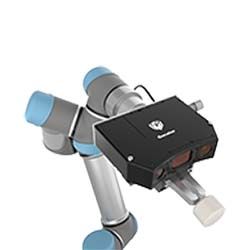 Easily integrate Gocator® 3D line profile and snapshot sensors with a variety of industrial robots to deliver high-performance 3D results in vision guidance, flexible inspection, material dispensing, and automated assembly with smart pick-and-place. Adding 3D vision to a robot turns repetitive, fixed motion into smart movement that can unlock greater value for your automation investment.