The roadmap projects the next five years of the FAA's UAS integration plan, with an eye on the agency's congressionally mandated deadline to have unmanned integration by 2015.
Today, the Federal Aviation Administration's Administrator Michael P. Huerta spoke about the agency's newly released roadmap and privacy policy that will dovetail with a Department of Transportation-initiated multiagency integration plan for UAS in the national airspace.

The roadmap projects the next five years of the FAA's UAS integration plan, with an eye on the agency's congressionally mandated deadline to have unmanned integration by 2015. The plan will be updated annually, says Huerta, with the policies, regulations, technologies and procedures needed to successfully integrate on a routine basis.
"In that airspace of the future, we will have new users," he said, at an event in downtown Washington, D.C. "We will have more commercial space launches, and we'll have more unmanned aircraft systems. As you know, it requires significant consensus of how we can safely integrate game-changing technologies such as these, and I'm pleased to say we've made very solid progress."
Huerta reinforced that the six unmanned aircraft test sites will be named before the end of the calendar year. The test sites will help develop standards and air traffic requirements, and their privacy practices "will help inform the dialogue among policymakers, privacy advocates, and the industry regarding broader questions concerning the use of UAS technologies," the roadmap says.
"We need to make sure we use these sites to obtain the best data that we possibly can," said Huerta. "The test sites will provide invaluable information that will help us develop policies and procedures to ensure safe, responsible and transparent integration."
He also noted the important role privacy will play in the test site lessons the agency collects.
"This policy requires operators to comply with all local state and federal laws concerning privacy and civil liberties." He added that the Department of Homeland Security and the Department of Justice, among other agencies, will be involved in UAS privacy concerns.
Huerta also said the ability to achieve Congress' integration mandate is reliant on steady federal funding.
"For us to be effective, funding from the government needs to happen in a predictable and reliable way so that we can consistently work toward the greater good," he said. "You've heard me say before, short-term, stopgap funding is no way to run a government or an aviation system."
He projected that if regulations move ahead properly, the FAA estimates there will be 7,500 small UAS routinely in the airspace in the next five years. Huerta detailed his definition of integration.
"To me what that means is demonstration what safe integration looks like, what its characteristics are and to have a framework in place and some initial work actually finally going into that area."
In closing, Huerta reinforced that the agency is moving ahead with integration plans.
"We are building an integrated and complex interrelated airspace," he said. "We need to join together again and boldly support the priorities we've established. By working together, government and industry will over come the challenges that face us and open the door to a more diverse and more dynamic aviation future."
AUVSI President and CEO Michael Toscano congratulated the FAA for its continued progress of integration.
"AUVSI applauds the FAA for taking this important step toward integrating UAS and recognizing the many societal and economic benefits that will follow," he said. "From advancing scientific research and responding to natural disasters to locating missing persons and helping to fight wildfires, UAS can save time, save money and, most importantly, save lives."
In-Depth Look at the Roadmap
The roadmap is divided into three sections: accommodation, integration and evolution.
In the near term, accommodation means taking existing UAS and getting them flying by approving their use on a case-by-case basis. This will continue to be the primary method for UAS flying in the mid-term, which the FAA defines as the next five years. Integration means establishing performance requirements for UAS that would increase their access to the NAS, starting with smaller systems. This is scheduled for the near to long-term, or five to more than 10 years.
The final step is evolution, where "all required policy, regulations, procedures, guidance material, technologies, and training are in place and routinely updated to support UAS operations in the NAS operational environment as it evolves over time," the roadmap says.
"To gain full access to the NAS, UAS need to be able to bridge the gap from existing systems requiring accommodations to future systems that are able to obtain a standard airworthiness certificate," the roadmap says.
During the evolution phase, the FAA will work with industry and the Aviation Rulemaking Committee to review and finalize operational, pilot and airworthiness regulations.
With the exception of small UAS, that can be flown within line of sight of the operator, the roadmap says that UAS integrated into the NAS will have to file and fly an instrument flight rules flight plan, carry an Automatic Dependent Surveillance-Broadcast (out) transmitter and transponder with altitude-encoding capability, have one pilot-in-command who can control only one aircraft and autonomous operations are not permitted, meaning the PIC can assume control at any time as needed.
Onboard, fully certified sense-and-avoid systems "may not be feasible until the long term and are deemed to be a necessary component for full UAS NAS integration," the roadmap says.
Featured Product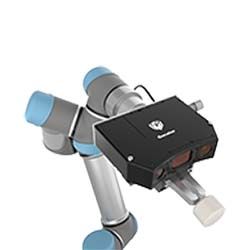 Easily integrate Gocator® 3D line profile and snapshot sensors with a variety of industrial robots to deliver high-performance 3D results in vision guidance, flexible inspection, material dispensing, and automated assembly with smart pick-and-place. Adding 3D vision to a robot turns repetitive, fixed motion into smart movement that can unlock greater value for your automation investment.