Solid Concepts submits their 1911 3D Printed Metal Gun to a 500 round torture test.
Austin, TX November 12, 2013

Solid Concepts, a world leader for 3D Printing services, submitted the world's first 3D Printed metal gun to a successful 500 round torture test on Friday November 8, 2013. To date, the 1911 3D Printed gun has been subjected to 600+ rounds without any part failures.
Solid Concepts wanted to further prove the strength and capability of the 1911 series pistol by submitting it to a high volume of rounds, ensuring its integrity throughout a continuous high volume of pressure, force and heat. The gun went off, and off, without a hitch. The test has given Solid Concepts a positive outlook for the firearms industry with regards to quick turnaround functional prototype components.
The gun was created with a metal laser sintering process and then stress relieved. "The 17-4 Stainless Steel has not been post heat treated, which would further strengthen it. We wanted to test the material in a raw form first," says Eric Mutchler, Project Engineer at Solid Concepts. "We still have heat treatment options and further Inconel or Super Alloys in 625 and 718 to try should our 1911 show any indication of failure."
The 1911 3D Printed Metal gun was manufactured 40 Micron layer by layer with 3D Printing. The metal barrel was grown with rifled lands and grooves as modeled in by per its CAD design, as were the other components (save the springs, which were not printed). The gun also has a unique serial number as ATF requires.
While the 1911 functions exceptionally well, the benefits of 3D Printed metal components include fast replacement components should anything function at less than optimal levels by simply re-printing them with design corrections. It is a spectacular feat that Solid Concepts' engineers were able to assemble and take the gun out for immediate firing. Even a small issue with the 1911 returning to battery was fixed immediately without any problems. "Regarding return to battery: Since the filming of the original video, we corrected this concern by improving the mating surface where the back of the shell rides up the breach face upon lockup. We initially ran a 14 lb. main spring and are now running a 15 lb. spring," says Mutchler. The return to battery is now smooth.
The company has answered more questions on its public blog, blog.solidconcepts.com, and released another video demonstrating the test rounds, which can be found here: http://www.youtube.com/watch?v=R2L3QP5qVgo.
About Solid Concepts
Solid Concepts Inc. provides custom manufacturing solutions via additive manufacturing, rapid prototyping, CNC machining, cast urethanes, injection molding and tooling. Since 1991, Solid Concepts has provided engineering expertise from multiple fields to bring success to new products in the aerospace, medical, consumer product industries and more. Capabilities in PolyJet, Stereolithography (SLA), Plastic and Metal Laser Sintering (SLS & DMLS), Fused Deposition Modeling (FDM), QuantumCast™ Cast Urethanes, CNC, Tooling and Injection Molding allow for low to high volume production of plastics, urethanes, and metals directly from design data, resulting in significant time and cost savings. For more information, visit http://www.solidconcepts.com ISO 9001 and AS9100 certifications.
Featured Product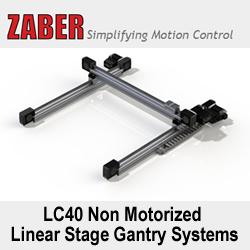 Zaber's X-LRQ-DE Series of linear stages have high stiffness, load, and lifetime capabilities in a compact size. The integrated linear encoder combined with stage calibration provides high accuracy positioning over the full travel of the device. At 36 mm high, these stages are excellent for applications where a low profile is required. The X-LRQ-DE's innovative design allows speeds up to 205 mm/s and loads up to 100 kg. Like all Zaber products, the X-LRQ-DE Series is designed for easy set-up and operation.